China's red tape baffles luxury houses
PARIS (Reuters) - Luxury groups are rushing to set up shop in China but the prized market, set to be the world's biggest, is a tough one to conquer without good connections with local authorities and partners who can deal with changing rules.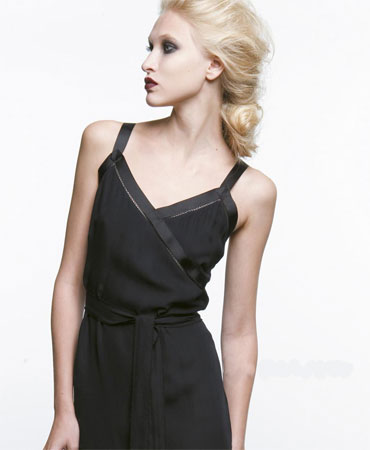 Photo: www.cerruti.com
Luxury skincare maker
La Prairie
, Italian jeweler
Bulgari
, leather goods brand
Longchamp
, fashion house
Cerruti
were among many companies at the Reuters Global Luxury Summit that said it was arduous to do business in China.
"China is a bit like the Far West," Cerruti Chief Executive Florent Perrichon said. "You need to be able to adapt quickly and have good relations with local authorities as well as local partners."
French handbag maker Longchamp, for example, decided to buy out its Chinese distributor to gain control and now has a Chinese team to take care of administrative tasks.
Bulgari (BULG.MI) Chief Executive Francesco Trapani said local bureaucracy was extremely complex and expansion in the Chinese market represented a significant investment.
"Rules change constantly. Suddenly, a new officer comes and there is a new interpretation," Trapani said.
Rules and mentalities differ greatly from one big city and region to the next, said Jean-Marc Jacot, head of Swiss watchmaker Parmigiani Fleurier.
"People think that China is one country, but it is not, it is several countries," Jacot said. "You need to work with people close to the government, otherwise everything will take a lot of time."
Taxes on luxury goods in China are also a consideration. For example, the price of a Lamborghini sports cars is double what it is in Italy.
But the Italian super sports cars which in Europe sell for 180,000-400,000 euros ($219,400 to $487,500) are enjoying growing demand in China.
Lamborghini expects to sell more than 100 cars in mainland China in 2010, up from 80 last year, with the country making up about 5 percent of total sales in 2009.
Lamborghini Chief Executive Stephan Winkelmann said the business mentality was a bit different from Europe and noted for example that Chinese people had a hard time accepting there could be waiting lists for cars.
"They are cash-and-carry people," he said, adding if a car was not on the premises to be driven away a sale could be lost.
CHINA TAKES OVER
China, already the biggest exporter, is likely to overtake the United States as the biggest importer by 2016, analysts predict.
Last year China became the top export destination for Australia, Brazil, Japan and South Africa and other countries are seen following that trend as China's appetite for imports continues to transform the world economy.
For La Prairie, the premium skin care brand of German consumer goods group Beiersdorf (BEIG.DE), China could outpace the U.S. in five years in terms of sales, Chief Executive Dirk Trappmann told the summit.
But it won't be an easy ride, he said.
"China is one of the trickiest, most demanding markets, followed by Korea and Japan," Trappmann said, adding that it took at least 12 months to get the ingredients of its various anti-aging face creams registered.
Certification issues have become a flashpoint of trade friction between China and developed economies.
French President Nicolas Sarkozy called for a level playing field for French firms in China when visiting in April.
Longchamp said a few years ago China demanded a rival to attach leather samples to all its bags, which disrupted sales for some time. Chief Executive Jean Cassegrain said Brazil was comparable to China in terms complex bureaucracy.
However, French champagne maker Taittinger said the Chinese market, where its exports are growing 40 percent per year, was really important.
"China is the new United States," said Chief Executive Pierre-Emmanuel Taittinger. "It's why we have to promote champagne in China -- to make them happy and peaceful. They are going to lead the world for the next 200 years."
(Editing by Sharon Lindores)
($1=.8205 Euro)
© Thomson Reuters 2023 All rights reserved.