Deckers ups Q3 view on robust UGG demand; shares up
*Raises Q3 outlook
*Reaffirms Q4 forecast
*Shrs up 9 pct in after-hours trade (Recasts; adds details, background, share movement)
Oct 9 (Reuters) - Footwear maker Deckers Outdoor Corp raised its third-quarter outlook and reaffirmed its fourth-quarter forecast as robust demand for its core UGG brand propelled sales at U.S. stores and overseas markets.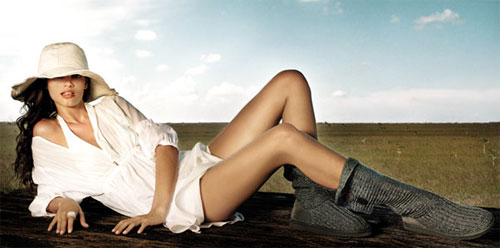 www.deckers.com
"Despite the challenging macro environment, we remain confident about our prospects for the remainder of the year. Our sell-through is strong, our inventory at retail is clean and we have not experienced any meaningful order cancellations to date," Chief Executive Angel Martinez said in a statement.
Brand power has driven sales at mid-tier footwear makers like Deckers and Wolverine World Wide even as sellers of other consumer goods fail to woo U.S. shoppers pinched by rising costs, falling home values and tighter lending conditions.
Many retailers who sell Deckers' products said UGG was currently one of the best performing full-priced brands in stores, the company, which also sells products under the Teva, Simple and Tsubo brands, said.
Deckers expects third-quarter sales of about $195 million, an increase of 51 percent from a year earlier, up from its prior outlook of a rise of about 34 percent.
Based on the raised sales outlook, the company expects third-quarter earnings to exceed its prior outlook of 12 percent growth from a year earlier.
For the fourth quarter, Deckers expects revenue to grow by about 45 percent and earnings per share to rise by 42 percent from the year-ago period.
Shares of the company were up $6.54 at $83.50 in trading after the bell. They closed at $76.96 Thursday on Nasdaq. (Reporting by Dhanya Skariachan in Bangalore; Editing by Pratish Narayanan)
© Thomson Reuters 2023 All rights reserved.