Discounts lift consumer confidence
By Mark Potter and James Davey
LONDON (Reuters) - Unprecedented pre-Christmas discounting by the country's store groups is helping to improve consumer confidence, a survey showed on Friday, but retailers remain gloomy about their prospects heading into 2009.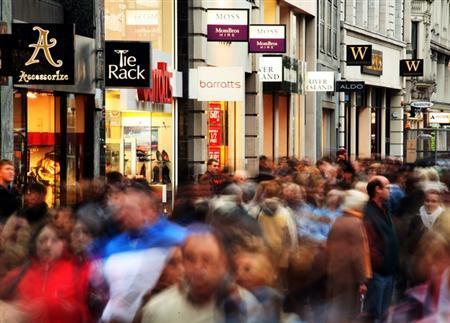 Car dealer Lookers issued a profit warning, while rival H.R. Owen said it expected trading to remain "severely depressed" throughout next year.
Fashion and homewares retailer Laura Ashley reported a steep fall in underlying sales and said the outlook was "extremely challenging" as shoppers curb spending due to fears of a deep economic recession and rising unemployment.
"What people say and what they do are different things," Pali International analyst Nick Bubb said of the improvement in consumer confidence.
"I think down at this level it doesn't mean a great deal. It's still bumping around at record lows."
Pollsters GfK NOP said their monthly consumer confidence index rose 2 points to -33 in December, its highest level since September and beating analysts' consensus forecast it would fall to match the series low of -39 hit in July.
Driving the recovery was a rise in the sub-index measuring whether consumers think now is a good time to make a major purchase, which leapt 10 points to -29.
The sub-index measuring how people thought the economy would perform over the next year fell by 5 points to -41.
"Consumers have become even less confident about the future economic situation but, among these historically low levels of confidence, there is perhaps a glimmer of hope," said Rachael Joy, one of the compilers of the survey.
"For the third month running, there has been an improvement in the number of consumers who think now is a good time to make a major purchase, suggesting high street deals and the small reduction in VAT have improved consumers views on this area."
The government cut value-added sales tax from 17.5 percent to 15 percent earlier this month as part of a package of measures to help families and businesses weather the downturn.
The rise in optimism about major purchases chimes with official retail sales data for November published on Thursday.
This showed a 3.9 percent jump in sales of household goods, the biggest monthly rise since July 2007 and helped to fuel a surprise 0.3 percent increase in overall retail sales.
However, many analysts are sceptical of the official data, which have painted a consistently brighter picture of retail spending than other surveys and companies themselves. They also say any pick up in sales driven by discounting is unlikely to last.
WORST STILL TO COME
"I strongly suspect that once the sales end or lessen that spending will slow quite markedly," said Global Insight economist Howard Archer.
"The pressures on consumers are pretty intense and are deepening, particularly with unemployment surging. So it's really hard to see consumer spending doing anything else but contracting quite significantly next year."
A drop in spending since the financial market crisis in September has driven store groups to launch an unprecedented wave of discounting in the key pre-Christmas trading period.
Some have not survived. On Wednesday, administrators to British toys-to-DVDs chain Woolworths said it would close by January 5, with the loss of 27,000 jobs, unless a last-minute buyer was found.
Debit and credit card group Visa Europe said on Friday its analysis of Christmas spending suggested a strong month in November, but a weakening from the second week of December.
"Either consumers are delaying many of their purchases in the hope of finding last minute bargains, or they have decided to rein in their spending completely," said Commercial Director Steve Perry.
Trading updates from retailers showed they are seeing little improvement in either major or more routine purchases.
Car dealer Lookers warned on profits and scrapped its final dividend, sending its shares sliding as much as 14.6 percent to 19 pence.
Rival H.R. Owen said it had seen no noticeable impact so far from the cut in VAT and that it expected to make an operating loss for the second-half of its financial year. Its shares fell as much as 9 percent to 66 pence.
Fashion and homewares group Laura Ashley was also downbeat, saying that sales at stores open at least a year fell 9.9 percent in the 20 weeks to December 13.
(Additional reporting by Christina Fincher; editing by Simon Jessop)
© Thomson Reuters 2023 All rights reserved.