Fashion house Cavalli to boost accessories, expand
By Marie-Louise Gumuchian
MILAN (Reuters) - Fashion house Roberto Cavalli is looking to boost its accessories segment and expand in South America and Asia Pacific this year, its chief executive said, adding there were signs of improvement in the luxury market.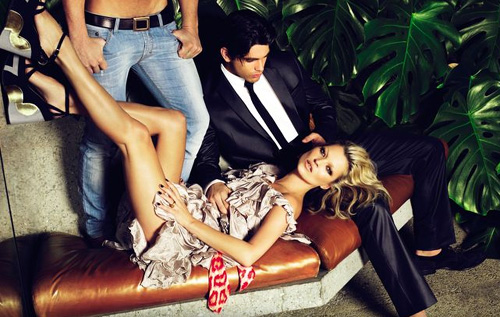 Just Cavalli 2009
Gianluca Brozzetti told Reuters in an interview that the fall in consumption in Europe and the United States had stopped and there was "some sign of things getting better." There is growth in Asia.
"We are seeing positive signals. The (sales) haemorrhage seen at the end of 2008 and in the first half of 2009 has stopped," Brozzetti said.
"In certain geographical areas, there is a recovery but we are cautious looking ahead ... (Compared to the first half of 2009), I confirm there is some improvement. We hope it stays in 2010."
Luxury groups are looking to win back consumers as they emerge from the worst economic crisis in decades which has sapped demand for designer goods. A tepid recovery is seen in global luxury sales this year, experts have said.
Cavalli, which showed off its autumn/winter 2010/2011 menswear collection on Sunday 17 January as part of Milan fashion week, said in September first-half sales fell 19 percent to 88 million euros ($127 million), with half the fall due to problems at IT Holding fashion production unit Ittierre.
IT holding is in special administration.
Cavalli is one of Milan's top fashion names alongside Giorgio Armani, Prada, Gucci, Versace and Dolce & Gabbana.
Brozzetti was named CEO in September when the founding designer hired two top luxury and fashion sector managers to run the group, dropping a plan for a private equity partner to support its growth plan. The Milan-based house this week announced a new chief executive for its U.S. subsidiary, Robert Donofrio as part of its management structuring program.
"We are working with the management teams looking toward the future of the company, rationalizing, organizing operations," Brozzetti said, when asked about plans for 2010.
"We will pay particular attention to accessories, which is an area for ample growth for us. We will also look at new geographical areas in America, South America and in the Asia Pacific area."
Designers have become increasingly aware that jewelry, hats and shoes give shoppers without the spending power for a red-carpet frock a way of buying into their favorite brand.
Accessories have also proven relatively resilient as shoppers use them to freshen up last year's recycled wardrobe.
Cavalli is known for his animal prints and flowing dresses. He counts many celebrities among fans, such as the Spice Girls.
On Sunday 17 January, Cavalli presented his menswear line including jackets with emphasized shoulders, overcoats with fur-trimmed hoods over slim trousers that were cut under the knee or were long and slender.
Models also wore metallic tank tops, jaguar print trousers and wide-netted belts with medallions.
($1=.6931 Euro)
(Editing by Erica Billingham)
© Thomson Reuters 2023 All rights reserved.