Jawbone earpiece 'jewelry' caters to techno chic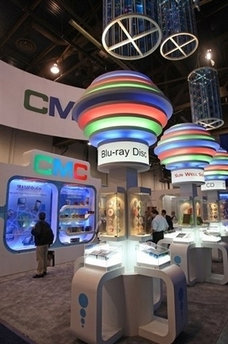 In a hip art gallery in a San Francisco neighborhood teeming with Internet firms, Aliph recently unveiled a slim new Jawbone earpiece crafted to blend high-technology with haute couture - Photo : Robin Beck/AFP
SAN FRANCISCO, May 30, 2008 (AFP) - In a hip art gallery in a San Francisco neighborhood teeming with Internet firms, Aliph recently unveiled a slim new Jawbone earpiece crafted to blend high-technology with haute couture.
The offering builds on a trend seen early this year at a major Consumer Electronics Show (CES), where one-time geek accessories were touted as status and fashion statements.
"These are very personal gadgets, whether it is a phone or an earpiece, so it actually tells something about a person," IDC analyst Shiv Bakhshi told AFP on Thursday.
"There are people that take their phones out and put them on the table while sitting together, not because they are expecting a call but because they want to show off an iPhone, Nokia-N95 or what-have-you."
Mobile telephone wireless earpieces such as the new-generation Jawbone are already in the realm of jewelry because they adorn faces, according to Silicon Valley analyst Rob Enderle.
"You are wearing it against your head like jewelry, so we are going to have much broader attempts to figure out ways to make it less geeky and more attractive," Enderle told AFP.
"We already have Bluetooth (wireless) headsets on the market in silver, crystal and gold."
Gadgets featured at CES included earphone earrings, crystal-encrusted USB drives, and Giorgio Armani-designed mobile telephones.
The second-generation Jawbone earpiece weighs 10 grams, comes in jet-black and is half the size of its popular predecessor.
"We really are trying to elevate the earpiece," Aliph co-founder Hosain Rahman told AFP. "It is really fashion."
Noise-eliminating technology built into the earpieces was developed by Aliph for the US military's Defense Advance Research Projects Agency, according to Rahman.
"If you open this up you'd see something that looks like the cockpit of a (Boeing) 747," renowned industrial designer Yves Behar said of the earpiece he helped create.
"That's the science part of the design. Hopefully, it's also like a piece of jewelry. We are really trying to make it a facial accessory."
There has always been a fashion component to "conspicuous consumption," particularly in the United States, whether it's a designer handbag or a palatial home with a three-car garage, according to Bakhshi.
Personal electronics are a natural stand-in as symbols of success in places where people don't have cash to squander on status homes or cars, the analyst added.
By factoring in fashion, Jawbone, and also a Plantronics 925 earpiece, should also "gain traction" with women, said analyst Tim Bajarin, president of Creative Strategies.
"The new Jawbone is a good example of how a headset can be turned from a geek device to one that could be more acceptable to all people," Bajarin told AFP.
"Up to now, the fact that headsets were considered ugly and stood out like sore thumbs on one's ear has kept them from gaining broad market acceptance."by Glenn Chapman
Copyright © 2023 AFP. All rights reserved. All information displayed in this section (dispatches, photographs, logos) are protected by intellectual property rights owned by Agence France-Presse. As a consequence you may not copy, reproduce, modify, transmit, publish, display or in any way commercially exploit any of the contents of this section without the prior written consent of Agence France-Presses.