Luxury brands show no sign of a let-up in demand
By Astrid Wendlandt
PARIS (Reuters) - European luxury goods groups provided fresh evidence late this week that consumer spending gloom has not yet affected buyers of their upmarket fashion, handbags, watches and other accessories.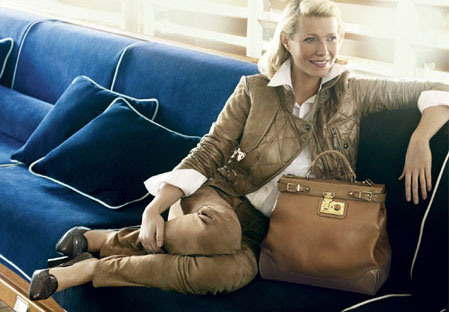 Gwyneth Paltrow for Tod's
France's
Hermes
,
Gucci
and Italy's Tod's all published earnings that topped or met market expectations on the back of impressive double-digit sales growth in the first half.
Their performance was all the more striking coming against a strong euro that should have harmed such major European exporters and amid concerns about rampant inflation and higher raw-material costs.
But luxury brands continue to benefit from a sustained rise in the number of deep-pocketed consumers around the world, particularly in countries like Brazil, Russia, India and China.
According to a Cap Gemini report, world wealth -- measured by the number of people with assets of at least $1 million excluding art and their primary residence -- rose in 2007 by 9.4 percent to $40.7 trillion and should continue to rise solidly over the next few years.
Meanwhile, well-to-do Western buyers remained faithful to their favorite brands and retained an unflinching appetite for quality and hype.
Hermes on Friday met expectations with a 14.1 percent rise in current operating profit, driven by demand for its themed silk scarves and leather goods.
Hermes, whose handbags start at 1,200 euros ($1,750) and can fetch 50,000 euros, said there were shortages for certain items such as crocodile-skin handbags in places like Asia.
"We think there is still a lot of growth potential for the Hermes brand which is not yet widely distributed around the world," Hermes Chief Executive Patrick Thomas told Reuters in an interview.
Hermes, which started as a saddle-maker in the 19th Century and has retained its equestrian inspiration and craft, makes among the best margins in the industry and, unlike others, has been able to increase them significantly.
Known also for its "H" embossed belts and decades-old perfumes such as Bel-Ami and Caleche, Hermes generated an operating margin of 25.1 percent in the first half, up from 24.8 percent last year.
In comparison, Italy's Tod's group, famous for its soft, pebble-soled shoes, saw its first-half operating margins stay flat at 18.2 percent while Gucci's margin on recurring first-half operating income also remained flat, at 28 percent.
But PPR's Gucci group of brands, which includes fashion design houses Yves Saint Laurent, Alexander McQueen and Stella McCartney, beat forecasts on Friday with current operating profit of 300 million euros.
RESILIENCE
Earlier this month, Fitch ratings predicted large international luxury goods companies would remain resilient in the current difficult environment.
"Given that luxury goods are discretionary expenditure, it seems counter-intuitive that they are not as affected by the economic slowdown as food spending," said Johnny Da Silva of Fitch's Corporates team.
"Geographical diversification, tight control of brand development and distribution network, pricing power and size are key factors for their success," he added.
Hermes is the European luxury sector's most expensive stock. It is trading at 34 times this year's earnings, which puts it at a wide premium to the sector average of about 16.
LVMH, owner of Louis Vuitton leather goods and Champagne house Moet & Chandon, is on 15 times while Tod's is on about 13.5 times and Gucci owner PPR, which also has retail operations, is on about 11-12 times.
Hermes stock has also been alone among its peers in climbing this year, having gained more than 10 percent since January 1.
Some analysts warned that some stocks, such as Hermes, could prove vulnerable in the short term as macro economic forecasts continue to deteriorate, however.
"The time horizon for a rewarding investment in the luxury sector seems to move forward as forecasts converge to indicate increasing risks of a recession," Bernstein Research said in a note.
It added that, in the short term, some luxury stocks such as PPR that trade to a discount to the sector on the back of specific concerns such as trading in France, could provide investment upside, as they continue to produce strong results.
However, Goldman Sachs said in a note its top picks in the sector were Richemont and Swatch.
"Their core brands continue to enjoy strong momentum and are set to gain market share at a time when retailers and consumers seek quality and higher intrinsic value," the broker said.
(Editing by Marcel Michelson and Quentin Bryar)
© Thomson Reuters 2023 All rights reserved.