Luxury firms hope to sail through global slowdown
By Sophie Hardach
TOKYO (Reuters) - Luxury goods makers are hoping to weather a consumption slowdown in the United States and Japan, their two biggest markets, with the help of shoppers in emerging economies and super-rich clients who do not feel the economic pinch.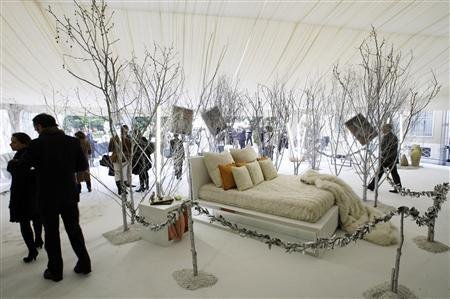 Industry experts have questioned how long fashion companies, yacht and sports car makers and other luxury goods makers can resist the wider consumption slump. The very wealthy, after all, comprise a small group of people, and China, India and Russia are not yet spending enough to replace U.S. shoppers.
But chief executives at a luxury goods conference in Tokyo showed optimism, saying that sales were holding up.
"The luxury business has grown faster than the general economy and I think that trend is here to stay," said Toni Belloni, managing director at LVMH, the world's largest luxury group.
So far, the evidence has been mixed. LVMH reported solid first-quarter revenues, but others have seen slower sales. Bulgari, the jeweler, saw sales rise 3 percent in the third quarter, while net profit was down.
Ermenegildo Zegna, chief executive of the eponymous Italian suit maker, said his company was expanding into sportswear and accessories but also made-to-measure services for wealthy clients to woo new customers.
"Despite the crisis, we've been able to sustain single-digit sales growth. We can still grow despite the slowdown of two of the most important luxury goods markets," he told reporters at the conference.
"The business model has to be changed. We are adding leather accessories, glasses, perfumes."
Zegna is also the latest European fashion group to invest in a huge new flagship store in Tokyo. Armani, Bulgari and Gucci have already built glitzy retail towers in Ginza and Omotesando, Tokyo's main luxury playgrounds. With sparkling facades, designer restaurants and spas, the shops attract luxury fans from all over Asia -- most crucially, rich Chinese tourists who would rather shop in trendy Tokyo than in Beijing or Shanghai.
While Tokyo is turning into Asia's most popular shopping centre, Japanese consumers themselves have become less enthusiastic.
A tepid economy and an ageing population have led to the demise of the classic luxury goods consumer here: the "office lady" in her twenties who lives with her parents and spends a large portion of her income on luxury goods.
Economic data points to persistent weakness in Japanese consumption. Overall household spending in April fell 2.7 percent from a year earlier, a much bigger decline than expected. Rising grocery prices, stagnant wages and a stalling job market are hitting consumer sentiment.
In the United States, consumer sentiment was likely stuck at a 28-year low in late May due to record gasoline prices and a deteriorating job market, a Reuters/University of Michigan poll showed on Friday.
Not that this matters to the most religious of luxury clients, the super-rich.
While more accessible luxury goods brands such as Gucci are reporting flat sales in Japan, Italian fashion company Bottega Veneta, one of the most expensive labels around, saw sales rise 31 percent in the first quarter.
"Japan is a market that any intelligent luxury brand has to take into consideration," Patrizio di Marco, president and chief executive of Bottega Veneta, told Reuters on the sidelines of the conference. "China is where Japan was 20 years ago."
Bottega Veneta's signature woven leather bags and discreetly elegant clothes, without any visible logos, appeal to slightly older, more sophisticated wearers. Its success in recent years shows that there is still room for growth even in a mature market that has tired of more obvious status symbols.
"You have to explain the story behind the product," di Marco said. "The customer is hungry for information."
Other executives have also noticed stronger demand for their high-end, hand-crafted shoes and clothes and personalized products.
Vincenzo Cannatelli, CEO of Italian yacht maker Ferretti, said the company expects double-digit growth in revenues this year, with sales of their biggest and most expensive yachts outperforming the middle section.
(Editing by Bill Tarrant)
© Thomson Reuters 2023 All rights reserved.