Miley Cyrus takes heat over sexy photos
By Dan Whitcomb
LOS ANGELES (Reuters) - "Hannah Montana" star Miley Cyrus took a drubbing on Monday in the media and from some parents of her young fans who were angry over sexually provocative pictures of the 15-year-old superstar despite her apology one day earlier.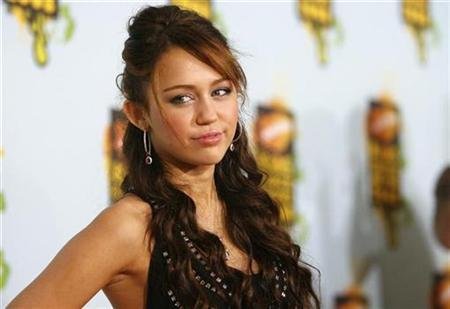 The fresh-faced Disney Channel star released a statement on Sunday saying she was "embarrassed" by the photos, some of which surfaced on the Internet over the past week and others set to be published in Vanity Fair magazine.
The Internet pictures show Cyrus tugging down her top to show off a bright green bra and draped suggestively across the lap of her then-boyfriend, her midriff bared.
The Vanity Fair photos, taken by celebrity photographer Annie Leibovitz and which hit newsstands on Wednesday, show the church-going teen apparently nude but clutching a satin sheet over her breasts, her hair tousled and a sultry look on her face.
The Vanity Fair cover picture was plastered across the front of the New York Post newspaper on Monday, along with the screaming headline: "MILEY'S SHAME."
While some posters to Cyrus' official MySpace page offered the teen superstar support, others slammed her as having crossed a line with her young fans.
"Miley I am the mother of an almost seven year old. I am wondering what choices you will make next," a woman named Amy wrote. "Up until now I haven't questioned your integrity. My daughter absolutely loves you.
"I don't agree with the photos. Please if you are a Christian then carry yourself in a more modest way."
'REALLY SLUTTY' PICTURES
A 15-year-old poster, Linzz, wrote on the MySpace page that Cyrus needed to be a better role model for young girls.
"Those pictures were really slutty," Linzz wrote. "You're losing a lot of fans doing that stuff. If you keep it up you're going to be like Britney Spears."
Leibovitz, meanwhile, said that her portrait of Cyrus had been "misinterpreted" in the media.
"Miley and I looked at fashion photographs together and we discussed the picture in that context before we shot it," Leibovitz said in written statement. "The photograph is a simple, classic portrait, shot with very little makeup, and I think it is very beautiful."
The Disney Channel has also backed up the rising star, saying "a situation was created to deliberately manipulate a 15-year-old in order to sell magazines."
Late last year, some candid photos of Cyrus frolicking with a female friend in underwear during a sleepover raised some eyebrows. She said at the time that there was "nothing wrong" with those photos.
Cyrus rocketed to fame as "Hannah Montana" on the Disney Channel's TV show of the same name about a girl who leads a double life as a teenager and singing sensation.
"Hannah Montana" ranks first among TV series of U.S. cable television for children aged 6 to 14. Her concert tour last year, "Hannah Montana & Miley Cyrus: Best of Both Worlds" was a sensation, sparking a movie that topped the box office chart.
(Editing by Bob Tourtellotte and Philip Barbara)
(please visit our entertainment blog via www.reuters.com or on blogs.reuters.com/fanfare/)
© Thomson Reuters 2023 All rights reserved.