More home-grown veg as belts tighten
By Kate Kelland
LONDON (Reuters) - Almost 70 years after Britons were urged to Dig For Victory to produce hearty home-grown food to help the war effort, domestic horticulture is coming back.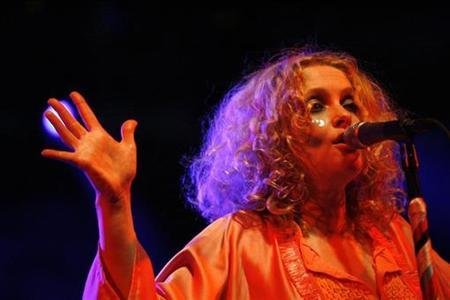 Across the Atlantic, where mortgage defaults, plummeting property prices and spiralling oil costs have driven the U.S. economy to the brink of recession, home-grown food is also gaining in popularity.
Where for some people, the appeal has been primarily health-driven, for other newcomers to the grow-your-own phenomenon, growing vegetables from seed is being recognised as a cheap way to get healthy food.
According to the U.S. National Gardening Association, Americans spent some $1.4 billion (715 million pounds) on growing their own vegetables last year, an increase of almost 25 percent on 2006.
Across Britain, gardening virgins are buying vegetable seeds in their millions and waiting lists for allotments -- plots of land which can be rented for a nominal fee and cultivated to your heart's desire -- are stretching for years.
Around 300,000 people hold allotments in Britain, but many thousands more are waiting. And whereas once they were strictly the territory of elderly green-fingered enthusiasts, now everyone from hard-up students to busy young professionals wants a little piece of the country to call -- and grow -- their own.
"We got in just before the rush," said Maeve Polkinhorn, a young mother as her one-year-old daughter Orla snoozed in a buggy beside the plot she has had for three years at the Grange Lane Allotments in southeast London.
"For us it's the perfect antidote to living in London. It's a great stress-buster and the vegetables we grow taste so much better."
A combination of rising fuel costs, greater demand from growing economies in Asia, poor crop yields and the use of farmland for biofuels has pushed world food prices up.
In Britain, the credit squeeze is starting to bite and people are told the going is getting tougher with daily media headlines about rising inflation and slowing economic growth.
"We often find that when pockets are a little tight and people haven't got so much spare change, they tend to buy more seeds," said Clare Dixie, marketing manager for Thompson Morgan, one of Britain's biggest seed companies.
DIGGING FOR VICTORY
Vegetable-growing in Britain declined sharply in the 1980s and 1990s as cheap all-year-round vegetables in supermarkets took prime position.
But both Thompson Morgan and Suttons Seeds -- another major supplier -- have noticed a rising trend in the past five years and say they have seen a jump towards vegetables from flower seeds this year in particular, with edible varieties accounting for between 60 and 70 percent of total sales.
Britons spent around 62 million pounds on seeds in 2007, 46 million of which was spent on seeds of edible plants, according to the Horticultural Trades Association.
Its latest figures show sales of fruit trees and seeds for edible plants were on the up in 2007, rising by 43 percent and 13 percent on 2006 -- a trend set to continue this year.
Tom Sharples of Suttons said the fashion for organic foods -- especially among middle-class mothers -- had been a driving factor, but he is convinced the tougher economic climate will produce longer-term converts.
"Before, it used to be the older people and then it was the eco-mummies," he said. "But now I suspect there is a strong economic factor."
Lenny Moakes, an 85-year-old seasoned London-based allotment grower, said this year, more than ever in his 44 years of vegetable growing, has been a bumper year for newcomers. "We all want food now that's organic, we don't put no chemicals or any of that rubbish on our vegetables."
Many amateur growers are also eager to point out many other health benefits -- both mental and physical.
John Sleat, 71, says he thought his "time was up" when he contracted pneumonia last year, but his doctor urged him not to give up the allotment because both the sowing and reaping were good for his health.
And Colin Rutland, a 77-year-old who is in remission from cancer, is convinced his plot kept him alive.
"I tell you, if I hadn't had this allotment and I'd have had to sit indoors, I'd have been dead," he said.
For those who have a smaller space, less time, or just less commitment, seed companies are rapidly developing fruit and vegetables to lure even the most impatient or work-shy growers.
Raspberries and blackberries which can be grown in pots, seed tapes and seed mats which keep mess to a minimum and "cut-and-come-again" salads which can be grown and harvested in a matter of weeks are selling well, according to Thompson Morgan and Suttons.
Among the dedicated, there is anecdotal evidence of a revival of some World War Two habits, when food rationing meant "digging for victory" and using all resources -- vegetable, animal and mineral -- to ensure the nation's survival.
Sharples said he has heard of Britons ploughing up their lawns, as they did in the 1940s. And some growers are branching out into new food production areas such as "snaileries".
Gary Weekes, a builder who lives in the southern English county of Kent, said it seemed "a natural progression" for him to expand his vegetable-growing success to a more meaty crop.
After checking out some basic tips on the Internet, he started a snailery in his back garden and soon had friends and neighbours dropping off their contributions on his doorstep.
"I took about a hundred of them to a barbeque at a friend's house and they went down a storm," he said.
"And I've had my eye on the squirrels in my back garden for the past few weeks," he added, only half joking.
(Editing by Elizabeth Piper and Sara Ledwith)
© Thomson Reuters 2023 All rights reserved.