Philip Mountford takes over as pdg of Hunkemöller
Announced in February, Philip Mountford started work as the pdg of Hunkemöller on April 1. His predecessor, Martin Zieger, stepped down from the position on March 1 to return to his home-country.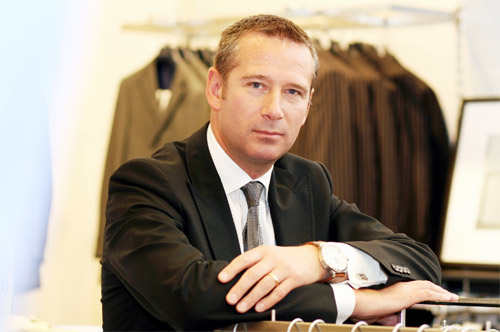 Philip Mountford, new pdg of Hunkemöller
Philip Mountford has acquired extensive experience in fashion retailing across the UK and Europe. His knowledge of international markets will allow Hunkemöller to come to the fore in a tough economic setting. "I'm really looking forward to meeting the challenge of making this good company great", declared the new pdg.
The new pdg has already had an impressive career, occupying several high level directorships in retail commerce. Until the beginning of this year he was pdg of
Moss Bros
Group PLC, a reputable men's fashion retailer with 150 stores across the UK which is franchised by
Hugo Boss
and
Canali
. Before Moss Bros he was director general at
Versace
overseeing the UK, Ireland, Scandinavia and emerging markets. Beforehand he also worked at
Nautica
as director of sales and marketing for Europe and also held the post of director of sales at DAKS PLC, a British fashion brand which operates globally in both wholesale and retail. Mountford started his career as director of purchasing at Simpson Piccadilly, a chain of luxury stores.
« Hunkemöller is a fantastic retailer, its in good shape financially and has unique qualities, » continued Mountford. "The boutique combines the character of a lingerie specialist with the advantages of an international chain. Our primary aim is to continue the growth of existing establishments in terms of turnover and profit. The products and people, staff as much as customers, are key to success. By proposing a good product to our customers, practically and enthusiastically, our salespeople will be able to sell more and better. The trick is to attract new customers without losing the current ones."
Hunkemöller, founded in 1886, is a part of the Maxeda group; the largest chain of non-grocery stores in the Netherlands. In the last few years the chain has expanded into new countries such as Spain, Russia, Poland, Egypt, the Middle East and the Caribbean region. Bodique, the international brand of Hunkemöller, has been successfully introduced with the installation of the first stores in the Netherlands last autumn. From now on, all new stores opened in emerging markets will be opened under the name 'Bodique'.

By Jonathan Fulwell (Source: Céline Vautard)
Copyright © 2023 FashionNetwork.com All rights reserved.