Reaching for the moon? Just look at your wrist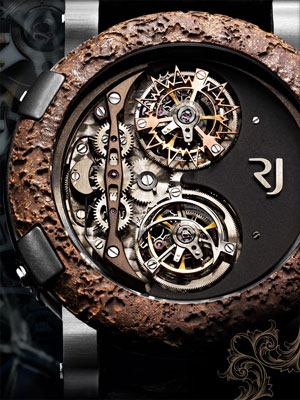 www.romainjerome.ch
By Katie Reid and Silke Koltrowitz
GENEVA, Nov 11 (Reuters Life!) - Forget diamonds -- one Swiss watchmaker is betting on watches made from moon dust, parts of the Apollo 11 space shuttle and bits of spacesuits to capture consumer cash as an economic slow down bites.
More than 600 watchmakers have the Swiss brand stamp, so Geneva-based Romain Jerome aims to use "inaccessible materials" to set its products apart from rivals such as Richemont's Vacheron Constantin and independent watchmaker Patek Philippe.
"This gives value to the product and the brand. But the material must also be well known and it must be luxurious," Romain Jerome Chief Executive Yvan Arpa said in an interview at the group's headquarters.
In 2007, the four-year-old group sparked controversy with its "Titanic DNA" watches, made from steel and coal from the ocean liner that sank on its maiden voyage in 1912, with some critics saying the timepieces were in bad taste.
But demand for the Titanic watches has been strong and the privately owned group currently has an order backlog of 50 million Swiss francs ($42.48 million) for the watches, which range in price from around 7,000 francs to 500,000 francs.
"We had to launch the second collection faster than we wanted to because otherwise Romain Jerome would have become the "Titanic" brand," said Arpa.
"We chose the space conquest," he said. "Going to the moon was the biggest adventure of human kind."
The group will make 1,969 watches -- matching the year of Neil Armstrong's and Buzz Aldrin's first journey to the moon -- for the "Moon Dust-DNA" collection.
The watches, which start at $15,000 and can cost as much as $500,000, will be launched in Geneva on Wednesday and presented to customers at next year's Baselworld, the largest annual fair for the watch and jewellery industry.
The watches' dials, which feature tiny craters, will have dust in them from the moon rock that was taken from the first visit to the Earth's satellite.
Steel from the Apollo 11 space shuttle will be used for the case and the strap will be made up of fibres from a spacesuit worn during the ISS mission, Arpa said.
Romain Jerome, which expects sales to double to 70 million francs in 2009, says it has four types of customers: the investor, the collector, the fashionista and fans of history and art.
"The collector is suffering a little bit," Arpa said. "We are definitely seeing a slow down in demand for watches that cost more than 150,000 francs, especially in Russia and the Ukraine."
But the collection has one major omission -- watches for women.
"I don't know how to make watches for ladies. I love ladies. But I don't understand them," Arpa said.
(Editing by Paul Casciato)
© Thomson Reuters 2023 All rights reserved.