Red tape and bribes greet small business in Russia
By Conor Sweeney
MOSCOW (Reuters) - Every morning staff at fashion jewellery chain Diva line up to bring their Australian boss about 500 documents to sign, as he swims against a tide of bureaucracy and corruption in modern Russia.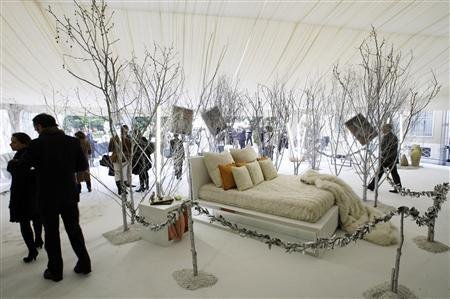 In two years, entrepreneur Peter Bohn has opened 36 small stores in shopping centres across Russia selling inexpensive jewellery to fashion-conscious young Russian women.
The problem is, the original schedule to hit 200 stores had to be put back, and Bohn currently estimates the start-up costs for the chain will top $4 million (2 million pounds), against an initial estimate of about $1.5 to $2 million.
"I've got a signing period from 10 to 10.30 am per day and every one in the office knows it," Bohn told Reuters. "On one extreme it could be ridiculously mundane paperwork, on the other hand, I could be signing my life away."
The walls of his outlets are covered in display cabinets of bangles, hair slides, chunky necklaces, and fake diamond rings that cost a fraction of the real thing. Bohn's eye is on the oil-fuelled boom which is gradually turning a section of Russia's 142 million population into a middle class with disposable incomes.
Standing in his way is an incessant series of headaches. In one recent incident, a shipment was impounded because a single document was missing.
Customs froze the delivery and charged rental fees and fines that, three months later, left Diva with a bill five times higher than the cargo's value.
"There was no flexibility at all," said Bohn, shaking his head, still frustrated by the episode. "And all because we missed out on one little document."
Russia's new president, Dmitry Medvedev, has said cleaning up graft and boosting small business are among his top ambitions. Small firms make up 15 percent of gross domestic product, but the president wants their share to reach 50 percent.
SCANT PROGRESS
Transparency International ranked Russian corruption on a par with Indonesia, Gambia and Togo at 143rd place in its index of 180 countries for 2007 -- Vladimir Putin's final full year as president.
His eight years in power produced mixed results when it comes to easing the overall burden of starting up a business, said Elena Anankina, a credit analyst with Standard & Poor's in Moscow.
"We haven't seen as much improvement as we could have hoped," she said. "There was some improvement, but then new procedures made it more difficult.
"It's very difficult to run a small business ... but we do see that retail and consumer goods sectors are developing, so despite all these obstacles, people are doing business and making profits," she said.
Medvedev has promised to root out both blatant bribes and less overt forms of corruption, such as dubious contracts and consultancies given to officials so businesses can operate.
At St Petersburg economic forum last weekend, he said tackling corruption was a first step: "We are talking about the fight against corruption, the strengthening of the judiciary in our country to ensure the supremacy of the law."
Big business is also concerned about legal standards. At the same forum, the chairman and CEO of ExxonMobil Corp., Rex Tillerson, said Russia must improve its judicial system to attract large-scale investors.
"There is no confidence in the rule of law in Russia today," said Tillerson.
BP's Russian joint venture TNK-BP has become the latest foreign firm to suffer Russia's rulebook as tax queries and visa controls have been deployed against staff in recent weeks.
If Bohn's experience is typical, there's a long way to go. The World Bank's site doingbusiness.org calculated it takes 54 procedures and over 704 days to get the licences, paperwork and utility connections to build a warehouse in Russia.
"This place is in the dark ages with most of its structures," Bohn said.
INVESTMENT SLOWED
Westerners say Russia needs to improve its business environment because it wants to diversify the economy away from energy. Foreign direct investment into Russia doubled in 2007 to nearly $28 billion, but slowed sharply in the first quarter of 2008, falling 43 percent to $5.6 billion.
"They're keenly aware that they don't want to be slaves to the natural resources," Andrew Somers, the president of the American Chamber of Commerce in Russia, told Reuters.
Oil and natural gas tax revenues will account for 41 percent of government revenues in 2008, the Russian Finance Ministry forecasts. This leaves Russia vulnerable to world market swings.
But with oil prices unlikely to fall back to $20 per barrel from their current highs of over $130 this threat is not imminent, said Anankina.
"Despite the credit crunch on capital markets, people continue to invest in Russia," she said: "Russia remains a growth story especially for retail and consumer goods following the natural resources boom. It's probably a good place to be for small business.
"But the business environment remains challenging -- this includes bureaucracy, corruption and weak institutions, so a lot depends on personal connections," she said.
Bohn is attempting to go it alone -- without a local business partner and the connections that might bring.
"My job is to get this business to 200 stores within three years and sell it for the best price I can, and give the money back to the venture capital firm and hopefully make my life a bit more reasonable," said Bohn, who is backed by Australian venture capitalists, BB Retail Capital.
He says Diva does not pay bribes, but there have been attempts to extort cash from the firm.
Diva only operates in shopping centres, to minimise its exposure to local crime gangs or zealous officials seeking to find excuses to shut down a shop -- a typical threat unless operators pay out a few thousand dollars.
Already, local oligarchs have muscled in and forced Diva to quit two shops in Russian regions, despite having the law -- at least in theory -- on its side.
That experience left Bohn with an uneasy fear someone may come along and try to wrest the firm from him.
"It's structured so if someone wants to make a mess they can't take everything," he said.
Diva should turn the corner by the year's end, said Bohn, who now hopes to open up to three new shops per month.
"It's been tough but I'm an optimist, so it will work out. Still, it is virtually impossible for a small business to start up here."
(Editing by Sara Ledwith)
© Thomson Reuters 2022 All rights reserved.