Retailers Gottschalks and Goody's file for bankruptcy
By Brad Dorfman
CHICAGO (Reuters) - Regional department store chain Gottschalks Inc (GOTT.PK) said on Wednesday it filed to reorganize under bankruptcy protection, while apparel chain Goody's LLC plans to liquidate its remaining 282 stores in a return to Chapter 11.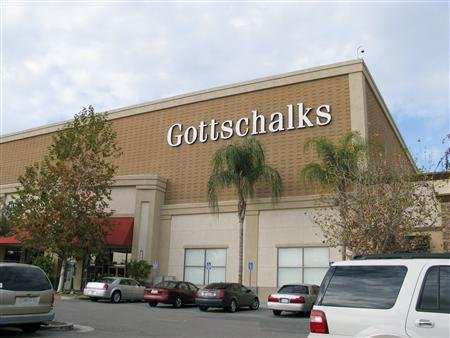 The bankruptcy filings are the latest in a string by recession-racked retailers that have just finished with the worst holiday shopping season in at least four decades.
Restructuring experts see a wave of additional store closures and potential bankruptcies in coming weeks and months due to dismal sales and a credit crunch. And some see the largest U.S. chains weathering the storm better than their local and regional rivals.
"I'm more concerned about the second tier of retailers, not the large public companies," said Bob Carbonell, chief credit officer for retail credit rating service Barnard Sands.
"Those are the privately owned companies that are going to possibly surprise some of their creditors, because they don't give monthly and quarterly financial information," he said.
Privately held Goody's said that a "significant downturn in the national economy caused severe and unexpected financial pressures," and led to unexpectedly poor sales in the holiday season, according to a Tuesday filing with the U.S. bankruptcy court in Wilmington, Delaware.
Goody's, based in Knoxville, Tennessee, operates in 20 U.S. states, mostly in the Southeast.
Gottschalks, which operates 58 department stores and three specialty apparel stores in the western United States, said it will pursue options that include the possible sale of the company or another transaction.
Gottschalks is seeking permission for the court to conduct an auction of the company around March 17, according to court documents.
GOTTSCHALKS STILL LOOKS FOR SALE
In November, Gottschalks had reached an agreement with Everbright Development Overseas Ltd for the British Virgin Islands-based company to invest up to $30 million in exchange for a stake in the company.
That deal fell through in December before it was consummated, though Gottschalks said it remained in talks with Everbright.
Last week, Women's Wear Daily reported that the Fresno, California-based retail chain had been in discussions with Everbright and another party seeking investment capital to help it stay afloat.
Credit sources said the other party was El Corte Ingles, Spain's largest department store retailer, which owns about a 16 percent stake in the California chain through U.S. unit Harris Co, Women's Wear Daily reported. Gottschalks could not be reached for comment on the talks.
"Gottschalks was simply a case of the purchase agreement falling through," said Carbonell.
Gottschalks shares fell 39 percent to 11 cents in Pink Sheets trading.
Gottschalks said on Wednesday it has negotiated $125 million in debtor-in-possession financing from a group of lenders led by GE Capital, a unit of General Electric Co (GE.N).
The company has assets of $100 million to $500 million and liabilities in the same range, according to the bankruptcy filing in U.S. Bankruptcy Court in Delaware. It has 10,001 to 25,000 creditors.
The largest unsecured creditor is Harris Co at $16.2 million, followed by Liz Claiborne Inc (LIZ.N) at $2.1 million, the filing said.
Gottschalks, founded by German immigrant Emil Gottschalk in 1904, will conduct business as usual during the bankruptcy process, its chief executive said in a statement.
Goody's decision to liquidate its stores under Chapter 11 comes less than three months after it emerged from bankruptcy, a move some analysts said happened too soon.
Goody's said it had investigated a number of alternatives, and concluded that the best way to maximize value for creditors was to conduct an orderly liquidation.
The company has between $100 million and $500 million of both assets and liabilities, and between 25,000 and 50,000 creditors, according to its bankruptcy petition.
The Gottschalks case is In re Gottschalks Inc 09-10157, U.S. Bankruptcy Court, District of Delaware (Wilmington).
The Goody's case is In re Goody's LLC, 09-10124, U.S. Bankruptcy Court, District of Delaware (Wilmington).
(Additional reporting by Jessica Wohl in Chicago and Chelsea Emery, Martinne Geller and Jonathan Stempel in New York; Editing by Brian Moss and Gerald E. McCormick)
© Thomson Reuters 2023 All rights reserved.