Spain's small businesses topple in crisis
By Sarah Morris and Sonya Dowsett
MADRID (Reuters) - Israel Barragan and his wife Isabel Navarro are hoping for a good Christmas at their home and kitchenware store Piu e Piu in Madrid, but say even buoyant sales are unlikely to save the three-year-old business.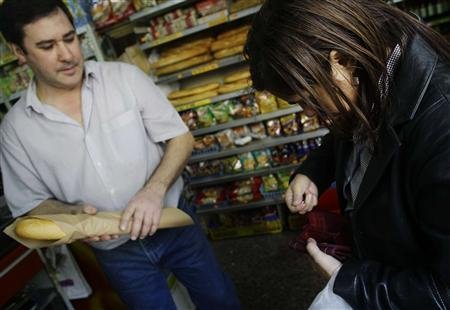 They rely on a 60,000 euro ($79,470) credit line, renewable at the start of every year, which they expect to be cut or canceled as banks call in loans.
"We can't afford to stock this floor any more," 30-year-old Navarro says, gesturing to a bed on the downstairs level once used to show off bed linen.
"We've cut costs to a minimum, but can't cut any more. We don't put as many lights on, do the cleaning ourselves and we had to let our other worker go."
Piu e Piu is among many small Spanish businesses squeezed between more cautious banks and cash-strapped customers who are increasingly turning to large chains during Spain's sharp downturn.
"There's help for banks and property firms, but nothing for us," says Barragan, who has fixed monthly costs of 12,000 euros on the shop.
These include rent, 244.45 euros a month in social security payments and 289.50 euros in paying an administration firm to help him navigate the paperwork of the tax system.
So far Spain has taken no special initiatives to help small businesses, although in line with other European Union countries it has launched plans to increase bank liquidity, which the government hopes will trickle down into the wider economy.
Unions and the conservative Popular Party have voiced skepticism over whether that will happen.
"The uncertainty is whether the banks will hoard liquidity for what may come in the future or go back to lending to small- and medium-sized businesses and individuals," said Manuel Romera, director of finance at Madrid's Empresa Business School.
CHAIN REACTION
The Spanish economy grew faster than the European Union average for more than a decade, fueled by a housing boom and cheap credit, but is now juddering toward recession, with unemployment at 11.3 percent in August -- the highest rate in the euro zone, according to Eurostat.
"The freeze in the property market has caused a chain reaction," said Camilo Abietar, chairman of Spanish self-employed association OPA.
"All those self-employed people involved with construction are being hit, from estate agents to people selling furniture, home decorating shops, bathroom and kitchen fittings."
Spanish neighborhoods have retained many traditional family-run businesses, like ironmongers, cobblers, tailors and cafes.
According to the latest statistics available from Eurostat, Spain in 2005 had 59.1 small or medium companies per 1,000 inhabitants compared with 39.9 in the 27-member European Union and 25.6 in the UK.
That picture may be rapidly reworked. Small businesses do not have the clout of their large rivals to negotiate credit terms with banks and suppliers, so they cannot cut prices profitably to attract bargain-hunters.
For example, Spain's largest retailer El Corte Ingles, the only national department store chain, has just introduced a low-cost label for food and toiletries called Aliada.
"If we buy 10 bags and sell two, we're left with eight which we've already paid for," says Piu e Piu's Navarro. "El Corte Ingles tells its suppliers to deliver the goods and then take back what it doesn't sell."
MARKET SHARE
Though Spanish retail sales are falling -- down 5.9 percent in August -- data from the National Statistics Institute shows large stores are managing continued growth, grabbing market share from the smallest players.
Clothing retailer Inditex, which dominates the country's high streets with a dozen chains including Zara, Bershka, Massimo Dutti and Oysho, bucked the falling market in September to post a rise in net profit for its first half.
It even launched a new accessories chain in Spain in July and said in its September earnings report it saw "no significant risks or uncertainties" for the second half.
The failure of small businesses, which tend to source locally, is also having a knock-on effect on small suppliers.
Spain's textile sector, once known worldwide for leather goods like shoes, handbags and belts, is fighting for survival.
It employs about 170,000 and is concentrated in southern regions like Valencia and Alicante.
"More than 70,000 jobs in the textile sector have been lost since 2005," said Jose Mesa, who represents the sector for the UGT union. "Almost on a daily basis a business closes."
This month, Saenz Merino, maker of Lois Jeans, a Spanish household name since the 1980s, filed for liquidation, and the UGT expects around 350 workers to lose their jobs.
At the height of its success, the family-run, Valencia-based company employed some 1,700 people and Swedish pop group Abba and tennis player Bjorn Borg appeared in adverts for its jeans.
"The main factors are the entry of China into the World Trade Association and globalisation," said Mesa. "Many businesses had undergone restructuring to emerge from their own crisis in the textile sector and now this financial crisis is sinking them."
(Editing by Sara Ledwith)
© Thomson Reuters 2023 All rights reserved.