Sudanese woman in trouser case banned from travel
KHARTOUM (Reuters) - Sudan has barred Lubna Hussein, a woman who faces 40 lashes for wearing trousers in violation of decency laws, from traveling abroad, she said Tuesday 11 August.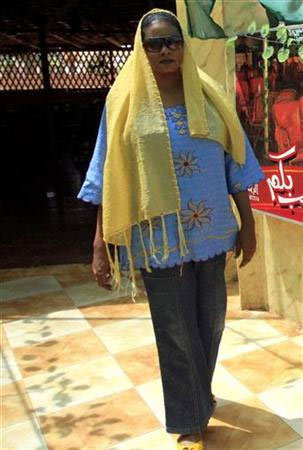 Photo: REUTERS/Mohamed Nureldin Abdallh
Hussein said she tried to leave for Lebanon Tuesday 11 August after a television channel asked her to appear in a program there.
"It emerged when I tried to get an exit visa that my name was on a blacklist," she told Reuters. "There is no way to get out of Sudan."
Hussein was arrested at a party in July and, with 12 other women, charged with being indecently dressed. A former reporter, Hussein has publicized her case, posing in loose trousers for photos and calling journalists to support her.
Women's groups, and protestors supporting Hussein at a hearing last week, have complained the law gives no clear definition of indecency and gives individual police officers the power to decide whether or not a woman is indecently dressed.
Her defense lawyer Nabil Adib Abdalla told Reuters that Hussein, who is on bail, should be free to travel. To bar her from travel, he said a court would have to issue a specific order and Hussein would have the right to challenge it.
"That is only when there is a serious crime, to prevent people fleeing the country," he added.
Hussein said an official at the airport said her name was put on the blacklist Friday 7 August. She said this was the same day Sudanese media reported French President Nicholas Sarkozy's invitation for her to visit Paris.
Abdalla has previously said that the law on indecent dress was so wide that it contravened Hussein's right to a fair trial. Hussein is challenging the charges, arguing that her clothes were respectable and so did not break the law.
Ten of the other women arrested with Hussein have pleaded guilty and have been whipped, Hussein previously said.
Hussein's hearing has been adjourned to September 7. The judge said this was to investigate whether Hussein has immunity from prosecution because she was working as a press officer for the United Nations at the time of her arrest.
Hussein has said she resigned from her U.N. job before the hearing to give up any legal immunity so she can continue with the case, prove her innocence and challenge the decency law.
U.N. officials have said the United Nations told Sudan that Hussein was immune from legal proceedings as she was a U.N. employee at the time of the alleged offence.
(Reporting by Khalid Abdel Aziz and Skye Wheeler, editing by Lin Noueihed)
© Thomson Reuters 2023 All rights reserved.