Swiss watch exports drop in December
ZURICH, Feb 3 (Reuters) - Demand for Swiss watches dwindled in December as the global economic slowdown took the sparkle out of one of Switzerland's key export industries.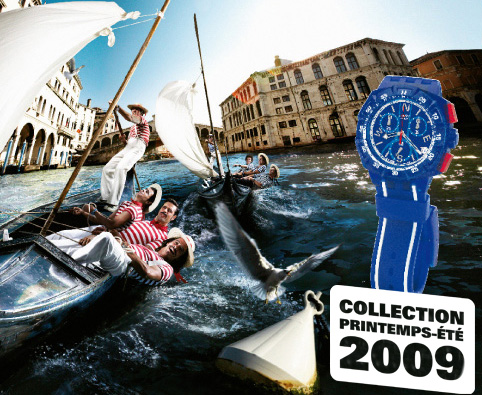 Swatch spring 2009 advertising
Exports fell 7.6 percent to 1.3 billion Swiss francs ($1.12 billion) after plummeting over 15 percent in November, as consumers spent less on luxury timepieces, data from the Federation of the Swiss Watch Industry showed on Tuesday.
"We are in a special situation compared to previous years as we are experiencing a complete trend turnaround with no kind of visibility," said Philippe Pegoraro, an economist at the Federation.
"Everything that you can see indicates that the current situation is more difficult and the decline that set in at the end of the year will continue in coming months."
Only wristwatches costing more than 3,000 francs recorded growth in value in December, up by 3.1 percent, but the number of pieces in this segment fell by 9.5 percent.
Volumes in timepieces costing less than 200 francs fell 10 percent and the downturn in value was 20 percent in the 200 to 500-franc price bracket.
"The two main markets of Hong Kong and the United States recorded a sharp decline in December. However, several important markets held up well and achieved a positive performance," the Federation said in a statement.
Demand for watches has shrunk over the past couple of months as consumers have kept purse strings tight due to worries about job security and the global economy.
"We now expect Swiss watch exports to fall by 14 percent in 2009 from 10 percent previously," said Kepler Capital markets analyst Jon Cox.
Swatch Group (UHR.VX) last week posted weaker than expected sales in 2008 and cautioned sales in the first quarter could fall back to 2007 levels as retailers struggle with liquidity issues and sell stock at discounted prices.
Rival Richemont (CFR.VX) said it was facing its worst markets in two decades and saw no signs of a recovery after its third-quarter sales missed forecasts. ($1=1.161 Swiss Franc) (Reporting by Jason Rhodes and Katie Reid; Editing by Greg Mahlich)
© Thomson Reuters 2022 All rights reserved.