Switzerland fights to safeguard "Swiss made" label
ZURICH, July 24 (Reuters) - "Fake watches are for fake people: buy authentic, buy real" -- that is the slogan of a campaign by the Swiss watch industry to fight booming demand for counterfeit goods during the global downturn.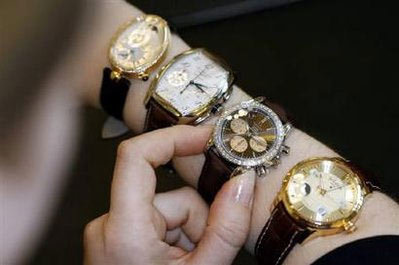 Photo: REUTERS/Siggi Bucher
Switzerland knows that imitation is the sincerest form of flattery but wants to preserve its reputation for quality products, from watches to cheese, by setting strict rules on Swiss content and more rigorously tracking down fakes.
Defending "Swissness" will be an uphill battle beyond Swiss borders and promoting premium products is a risky strategy in a recession, but Switzerland wants to be ready for a rebound.
A search for "Swiss made" on the Internet returns dozens of websites offering replica watches at knock-down prices but also assurances that the mostly "made in China" fakes can match "made in Switzerland" quality.
"We're able to offer low prices, and you can be certain of the craftsmanship that goes into every watch," boasts one company based in Shenzen, China, offering a Rolex Santos "with correct markings and engravings, replicated to the smallest detail" for $449 instead of $952.
Exports of Swiss watches slumped by 25 percent in the first five months of the year to 5 billion Swiss francs ($4.6 billion), with 2.5 million fewer watches sold than a year ago.
The Federation of the Swiss Watch Industry estimates that more than 40 million fake Swiss timepieces are made every year, generating profits of around $1 billion.
"People still like brands in an economic crisis but unfortunately if there is not enough money at their disposal, they buy counterfeits," said Yves Bugmann, head of the federation's legal division.
The threat from fake goods has spurred the Swiss government into action to try to protect its precious "Swiss-made" label and the white-on-red Swiss cross logo by setting strict rules on Swiss content and production.
Switzerland's squeaky-clean image has been dented by a global crackdown on its secretive banking industry, in particular its top bank UBS (UBSN.VX), accused of helping tax dodgers hide their money in offshore accounts.
However, the image of most Swiss products is untarnished. A global study conducted by advertising firm McCann Erickson and St Gallen University in 2008 showed Swiss products are perceived more favourably that those from any other country.
QUALITY PREMIUM
"People are prepared to pay up to 20 percent more for certain Swiss consumer products and for luxury goods they are prepared to pay even more," said Felix Addor, deputy director general of the Swiss Federal Institute of Intellectual Property.
"But if they pay more and they are disappointed because the product has not the expected high quality it hurts the reputation of Switzerland."
Juergen Haeusler, chairman of the brand consultancy Interbrand for central and eastern Europe, said achievements by prominent Swiss such as tennis ace Roger Federer and prize-winning architects Peter Zumthor and Jacques Herzog have helped the country's image. "People think of Switzerland in terms of quality, precision," he said.
The leading Swiss brands in the Business Week/Interbrand top 100 include Nescafe coffee and Rolex watches, as well as UBS, although the bank dropped several places when it suffered record losses last year and came under a U.S. tax fraud investigation.
Some of the top brands such as Nestle (NESN.VX) do not actively market their Swiss roots, perhaps because they imply premium pricing, but a growing number do so, with more than 5,000 brands using the tag "Swiss" in 2006, up from 1,500 in 2000.
"'Made in Switzerland' is a valuable asset of the Swiss nation and helps Swiss industry to compete worldwide. More and more corporate brands like to associate with the image of Switzerland compared with 10 years ago," Haeusler said.
To defend the brand, the government is planning legislation that will demand that the Swiss share of production costs must be 60 percent for industrial goods to be labelled "Swiss".
The watch industry has proposed an even tougher requirement for itself, demanding an 80-percent share of total production costs in Switzerland, up from the current 50 percent, seen by many as too lax and allowing too much production elsewhere.
Under the new legislation, at least 80 percent of the raw materials for food products must be from Switzerland and most of the processing costs must occur in the country.
So Swiss cheese will not only have to be made in Switzerland but also must use largely from Swiss milk. The dried beef industry is up in arms because simply curing meat in Switzerland will no longer be enough. It will have to use Swiss meat, rather than Argentine.
Swiss chocolate makers such as Lindt (LISP.S) need not worry as the legislation foresees exceptions for products such as cocoa that are not sourced locally and for raw materials that are temporarily not available, for example because of poor harvests.
NO BRAND MANAGER
Sven Reinecke, marketing professor at St Gallen university, said it would be hard to enforce the new rules on what is allowed to be called "Swiss-made" globally, but it was important to try, especially for luxury industries such as watchmaking.
"It is difficult to defend the brand all over the world. You do not have a brand manager for Swissness so everybody can use it. But for a premium brand you need to show it is quality so it is necessary to define it," he said.
Bugmann of the watch industry federation said the recession was already making China less cooperative in pursuing counterfeiters.
Some might question the wisdom of pushing the premium quality of Swiss products when consumers are trading down, hurting expensive watch brands Swatch Group (UHR.VX) and Richemont (CFR.VX) as well as premium chocolatiers such as Lindt.
Interbrand's Haeusler disagrees: "Marketing is often the opposite of what seems to be reasonable.
"Even if we can't have premium, we still aspire to have premium. I would not just begin to communicate the image in a different way just because of a temporary crisis."
Kepler Capital Markets analyst Jon Cox said promoting the Swiss brand would set the country up well for a recovery.
"The whole trend towards premium products will go on even if it is a trend towards less conspicuous consumption," he said.
Experts foresee little lasting damage from attacks on banking secrecy, noting that a Nazi gold scandal in the late 1990s over the emptying of Jewish accounts with Swiss banks did not have a lasting effect on the country's image.
"Country brands are big ships that don't change course quickly," said Addor from the Swiss Federal Institute of Intellectual Property. "A Swiss watch is a high quality watch. It has nothing to do with whether or not Swiss banks have done something good or bad." (By Emma Thomasson. Additional reporting by Josie Cox; editing by Andrew Dobbie)
© Thomson Reuters 2023 All rights reserved.