Adidas enlists Jedi master Yoda to fight recession
FRANKFURT (Reuters Life!) - As the global crisis weighs heavy on consumers' shoulders, sportswear-maker Adidas plans to use "The Force" to fight recession and battle rivals, Puma and Nike.
The world's No. 2 sports goods maker behind Nike launched its first Star Wars collection -- featuring Princess Leia sneakers, Darth Vader jackets with an attachable cape, as well as stormtrooper track tops -- earlier this month in New York, backed by one of its biggest fans, hip hop singer Snoop Dogg.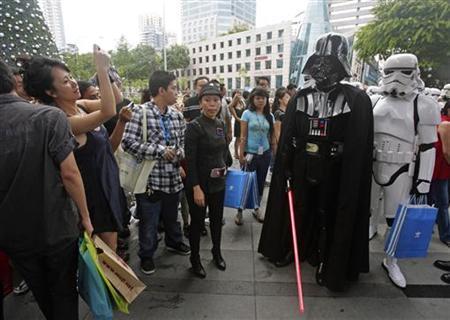 "There is no specific reason behind the actual time and date," said Dean Lokes, global head of Adidas Core Originals, which is part of the Adidas empire.
"It is more that a vision became reality as the actual idea to work with Star Wars had been brainstormed many times before inside other plans," he added.
The launch comes 33 years after George Lucas's "Star Wars" hit the cinema screens. The first film in the Star Wars franchise mesmerized millions of fans around the world and has raised billions in revenues as a result.
And it comes as the world crawls out of the worst recession in decades, which has left many people out of work and with growing concerns about the future.
"Star Wars is about hope," said Howard Roffman, president of Lucas Licensing of Lucasfilm. "It embraces the idea that one person can make a difference. It is a vehicle for personal empowerment."
It costs about $200 to be empowered by a Star Wars Famous Scenes Micropacer shoe -- which has a "good and evil" microprocessor underneath the lace cover that calculates time, distance and speed -- or $125 for a Yoda Boat shoe.
Fans are rushing to get their share of the 28 piece spring/summer collection, with another collection to come out later this year.
"Reaction to the collection has been excellent across the globe," Adidas' Lokes said. "Both limited editions styles and more commercial styles have all been selling very well with many styles already sold out."
Adidas' fashionable lifestyle brand Originals makes up about 20 percent of Adidas brand, which again accounts for about 72 percent of the group's total annual revenue of roughly 10.8 billion euros ($14.67 billion).
Adidas' cross-town rival Puma -- the world's No. 3 in the sportswear industry -- was among the first to venture into lifestyle products in the 1990s by cooperating with designer labels such as Jil Sander, Alexander McQueen or Sergio Rossi.
A GOOD VILLAIN
But the collection is not only about revenue, said Stefan Brunner, who is in charge of sportswear at market research company GfK. "Generally this is a way to reach a wider audience and to broaden the brand," he said.
Star Wars' characters such as Luke Skywalker, Han Solo or Princess Leia speak to various generations. Those, who saw the films when they first came out as well as their children. Lego's recent Star Wars cooperation was a major hit.
But the most popular character is Darth Vadar.
"He is such a good bad guy. He is the most known villain in the world," said Lucasfilm's Roffman, who has been with Lucasfilm for 30 years.
Asked which character he likes most he said that he was getting increasingly attracted to Yoda, the wise and witty nine hundred-year-old Jedi master.
"But maybe that's got something to do with the fact that I am getting older myself," Roffman added.
(Reporting by Eva Kuehnen, editing by Paul Casciato)
© Thomson Reuters 2023 All rights reserved.