Armani to open its first hotel in Dubai
The Italian fashion house Armani will inaugurate its first hotel on the 18th of March, in the highest tower in the world in Dubai – coming just before the opening of the hotel in Milan that has been under construction since the end of 2008.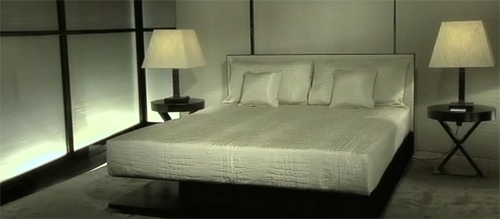 www.giorgioarmani.com
Ahead of New York, Tokyo, Shanghai, London and even Milan, it will be in the Burj Dubai Tower that the first Armani hotel will be seen. Situated in a building 818m high, setting a new record for the world's tallest building, the hotel is already being presented as the best in the entire emirate. But for now, the future clients of the Armani Hotel will have to wait until the end of the month to reserve their rooms and suites on the complex's website.
Armani has never hidden its ambition for a hotel chain with plans for villages, private residences and seaside resorts having been touted. The first Armani resorts should soon be seen in Morocco, Marrakesh and in Marassi, Egypt. This hotel network will also serve as a global showcase for the collection of furniture from Armani Home.

By Jonathan Fulwell (Source: Matthieu Guinebault)
Copyright © 2023 FashionNetwork.com All rights reserved.