Arvind in pact with Italian denim group Sixty Group
By Boby Kurian (VCCircle.com)

Italian fashion denim maker Sixty Group is entering into a deal with Sanjay Lalbhai-led Arvind Ltd, which will see the latter landing with the rights for brands like Energie Jeans in India.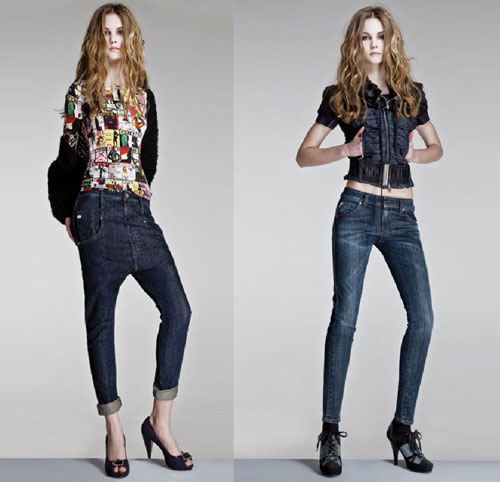 Miss Sixty
Arvind's branded apparel division will unveil an arrangement with the two decade-old Sixty Group, which had snapped a joint venture with Reliance Brands in the past.
Sources said Arvind will kick-off its association with Sixty with the introduction of Energie Jeans, and probably look at deepening the ties through other brands going forward.
Sixty's brands include the flagship
Miss Sixty
, Killah and Murthy&Nye. Arvind's move to partner Sixty Group comes at a time when the latter's denim rival
Diesel
SpA has entered the market through an equity JV with Reliance Brands.
Interestingly, Reliance Brands is headed by industry veteran Darshan Mehta who earlier spearheaded Arvind Brands.
Mehta had called off a deal with Sixty Group when Diesel approached Reliance Brands after snapping a proposed JV with Arvind.
Arvind's will bolster its presence in the fashion denim space with the latest deal. It already controls the rights for Lee and
Wrangler
in the the growing Indian market through a joint venture with VF Corp. Arvind Ltd could not be contacted for immediate comments.
Sources said Arvind is expected to price Energie almost on par with Diesel, which will also see the Indian firm straddling the price points in in India's denim market. While Energie would play in the super-premium segment, Wrangler and Lee would continue with its differentiated positionings in the premium market.
The first two Diesel stores that opened in recent weeks have met with encouraging response even though the core jeans collection carries an average gtag of Rs 8000 to Rs 10,000 per piece. One industry source, who did not wish to be identified said, the first Diesel store at Palladium in Mumbai could be reporting Rs 1 crore turnover in the first month of operations.
The response to Diesel and continued strong interest in international lifestyle brands like
Tommy Hilfiger
demonstrates that India holds promise for global fashion houses who get their act right this expanding but complex market.
Industry observers said that while Energie would be competing against Diesel globally, its pricing strategy will have to consider the fact that Diesel has better brand recall in markets like India.
Arvind's branded operations cover licensing deals with brands like
Gant
, Arrow and US Polo, besides a JV with American clothing giants VF Corp and Tommy Hilfiger. The Lalbhai family controlled firm also owns mid-priced brands such as Flying Machine, Excalibur and Newport, which makes it the second largest fashion brands player in the coluntyty after Aditya Birla's Madura Garments.
© Thomson Reuters 2023 All rights reserved.