Audrey Hepburn's wardrobe sells for double estimate
LONDON (Reuters Life!) - A collection of dresses worn by film star Audrey Hepburn fetched 268,000 pounds ($437,800) at auction, more than double the pre-sale estimate, organizers said on Wednesday 9 December.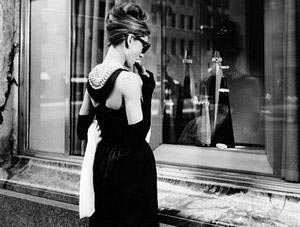 Audrey Hepburn in "Breakfast at Tiffany's"
More than 40 items from her wardrobe, including dresses worn in her films, were auctioned in London in a sale described by organizers as "the like of which will never be seen again."
The highest price, 60,000 pounds, was paid for a Chantilly lace cocktail gown by
Givenchy
which Hepburn wore in "How to Steal a Million" in 1966 -- against an estimate of 15,000 to 20,000 pounds.
Givenchy was the designer most closely linked with Hepburn, but also up for auction was the ivory satin bridal gown designed by the Fontana Sisters for her planned marriage to James (later Lord) Hanson, which sold for 13,800 pounds. Hepburn later called off the wedding.
Hepburn, who won an Oscar for her first starring role as a runaway princess in "Roman Holiday," is also known for roles as divergent as cockney Eliza in "My Fair Lady" and a terrorized blind woman in "Wait Until Dark."
The actress, who personified the svelte, chick, minimal European post-war look, became renowned for her perceived purity, innocence and vulnerability, the fashion auctioneer Kerry Taylor said before the sale.
The collection was sold by Tanja Star-Busmann, a life-long friend of Hepburn's, and 50 percent of the net sale proceeds will be donated to The Audrey Hepburn Children's Fund.
Organizers at La Galleria had expected the auction to fetch a total of 100,000 pounds, but in the event it made 268,320.
"Tanja is pleased that all these lovely clothes and accessories that she has treasured for so many years will go to collectors and museums throughout the world," Taylor said in a statement.
Hepburn's clothes do not often come up at auction, despite the actress hating waste.
She died in 1993 at the age of 63.
(Reporting by Avril Ormsby; Editing by Paul Casciato)
© Thomson Reuters 2023 All rights reserved.