Benetton cuts div 30 percent, appoints new CFO
MILAN, March 18 (Reuters) - Italian clothing retailer Benetton (BNG.MI) will cut its dividend by 30 percent to 0.28 euros per share for 2008, it said on March 18th, joining many companies trying to save cash in the current market turmoil.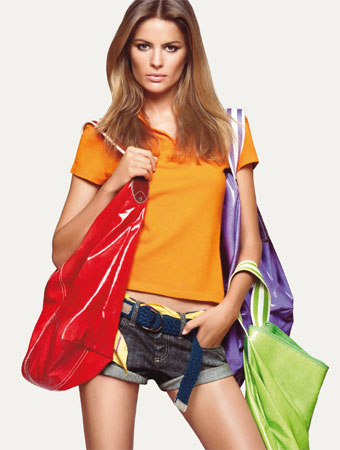 United Colors of Benetton Spring-Summer 2009
Benetton, known for its brightly coloured sweaters and innovative advertising, said in a statement on Wednesday it had started a reorganisation which should generate cash and yield structural savings of over 50 million euros in 2010.
Last month Benetton reported a 7 percent rise in 2008 net profit to 155 million euros, lifted by rising sales in emerging markets.
It said then it would implement "radical actions" to prepare for the tough climate ahead.
On Wednesday, it said it aimed to boost its commercial network, improve its supply chain, cut costs and focus on capital employed.
The company, which competes with high street chains such as Hennes & Mauritz AB (HMb.ST) and Inditex's (ITX.MC) Zara, said it had named Alberto Nathansohn chief financial officer.
Nathansohn was formerly chief financial officer at jeweller Bulgari (BULG.MI).
Former CFO Emilio Foa left Benetton late last year.
Shares in Benetton were down 0.19 percent to 5.25 euros by 1343 GMT as Milan's index of leading shares was up 2.44 percent.
© Thomson Reuters 2023 All rights reserved.