Burberry says trading still tough
LONDON (Reuters) - Luxury goods group Burberry (BRBY.L) is planning for trading to remain tough but expects cost-cutting to underpin earnings this year, it said on Tuesday 19 May as it met forecasts with a 12.5 percent fall in 2008/2009 profit.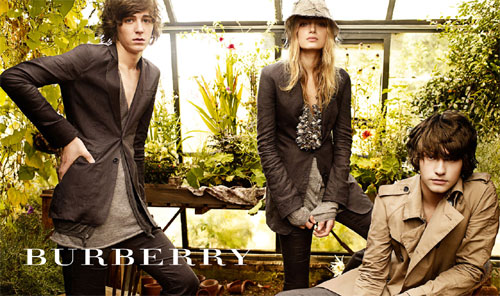 Burberry publicity campaign, Spring-Summer 2009
The 153-year-old maker of raincoats and handbags said it was "well advanced" in its plans to make 50 million pounds in savings and that around 800 employees, or 15 percent of the workforce, had left the group.
Burberry had said in January that it would shed around 540 jobs in Britain and Spain in its cost-cutting programme. It said on Tuesday that many of the people who had left were in corporate functions and regions.
Chief Financial Officer Stacey Cartwright told reporters the group, known for its camel, red and black check pattern, was planning for trading to remain difficult and would cut stock levels further after a 19 percent reduction in 2008/09.
"From our point of view, we still see things as being very uncertain," Cartwright said on a conference call with reporters.
Profit before tax and one-off items was 175 million pounds in the year ended March 31, just ahead of analysts' average forecast of 173 million in a company poll.
Revenues rose 21 percent to 1.2 billion pounds, helped by favourable currency moves, and the full-year dividend was kept at 12 pence a share.
Luxury and mid-market retailers have been hit hard by a steep global recession. The country's biggest clothing retailer, Marks and Spencer (MKS.L) on Tuesday posted a 40 percent fall in annual profits and cut its dividend.
Shares have rallied strongly in recent weeks on hopes of a recovery, although companies themselves remain wary.
Luxury goods group
Richemont
(CFR.VX) said last week it did see not a recovery until at least September.
Burberry shares, which dropped as much as 70 percent last year, have bounced from a November low of 154.75 pence. At 9:00 a.m. they were down 3.8 percent at 386 pence, lagging a small rise on the DJ Stoxx personal and household goods index .SXQP.
SELF HELP
"Burberry's self-help (in cost cutting) is a clear positive, but the shares look to us unlikely to re-rate further without increased visibility on revenues and gross margins," Citi analysts said in a research note, adding they were concerned that Burberry makes about 50 percent of its retail and wholesale revenues from three hard-hit economies -- the United States, Britain and Spain.
Burberry said its profits had been affected by the heavy discounting it did to reduce stock levels, but forecast gross profit margins would improve this year, albeit weighted to the second half.
Cartwright was not concerned that shoppers might be reluctant to buy full-price goods after such widespread industry discounting.
"Anybody who hangs on hoping that they have the kind of discount, particularly in, say, the U.S. market, that you saw in the run up to Christmas last year, I think they will be disappointed," she said.
"People just aren't carrying that level of inventory that's going to require that level of discounting to unload it."
Cartwright said she was not seeing signs of shoppers trading down to cheaper goods. Rather, they were buying less.
Burberry, which has 119 stores around the world, said it was sticking with its plans to open between 10 and 15 shops this fiscal year, mainly in Asia and the Americas. Retail revenues were over half of the total in the year ended March for the first time.
The group expects wholesale revenues to fall 15 percent at constant exchange rates in the first half of this financial year as customers continue to reduce inventories. Licensing revenues are seen down between 10 and 15 percent on the same basis.
Including restructuring costs and a 130-million-pound impairment charge related to goodwill in its Spanish operations, Burberry had a loss of 6 million pounds.
By Mark Potter
(Editing by Karen Foster)
© Thomson Reuters 2022 All rights reserved.