Carlos Falchi becomes a holding company and looks further than leather goods
Investment group Windsong Brands and the development office of Marvin Traub Associates have formed Falchi Holding, an entity that has taken over the rights for Carlos Falchi handbags, which could soon expand its domain beyond leather goods.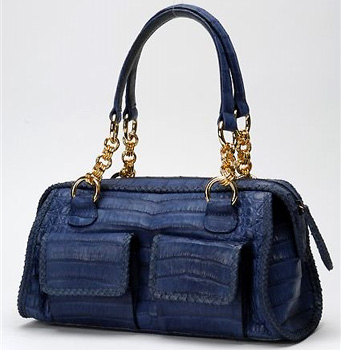 Carlos Falchi 2009
Carlos Falchi will remain in the role of artistic director for the new business. He will be accompanied by William Sweedler and Stuart Jamieson, CEO and director general of Windsong Brands and the investment funds Ellen Tracy and Field&Stream respectively. A director of operations and a director of sales should follow soon to complete the management team, and in so doing mark the beginning of a new chapter in the history of the brand.
"The newly created entity Falchi Holdings will ensure the financial solidity necessary to build on the success of our base activity, handbags, to enlarge the Carlos Falchi brand into new product categories," stated Carlos Falchi. "I am happy that a number of industry leaders have accepted to join me in this new business".
"Windsong has led studies of the global market of the Carlos Fachi brand, before this acquisition, which revealed the great possibilities for growth within its leather goods business, as well as for other types of product. We have a strong interest in this brand's future possibilities, including shoes, clothes, jewellery, smaller leather goods and household items", revealed Bill Sweedler, announcing a period of rapid change for Carlos Falchi.

By Jonathan Fulwell (Source: Matthieu Guinebault)
Copyright © 2023 FashionNetwork.com All rights reserved.