Claudia Schiffer plans to create own fashion label
By Astrid Wendlandt

BERLIN (Reuters Life!) - After lending her image to fashion designers for more than two decades, supermodel Claudia Schiffer says she is now ready to create her own fashion business, which could include cashmere wares and handbags.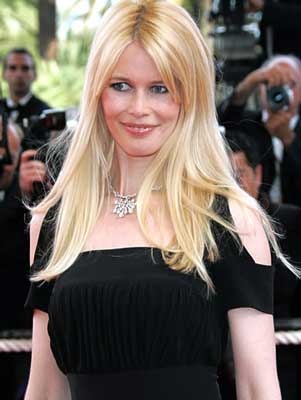 Claudia Schiffer
The 39-year-old-German born model on Tuesday 17 November said she was looking to give her life a new direction and was on the lookout for partners to back the launch of her brand.
"I would love to create my own lines now," Schiffer told a luxury conference in Berlin organized by the International Herald Tribune.
"I want the brand to be timeless and classic, with a fashion sensibility."
Many celebrities before Schiffer have launched their own trademarked products, ex-pop star
Victoria Beckham
is getting rave reviews for her evening dresses, Jennifer Lopez launched her own perfumes and
Paris Hilton
got into luxury watches.
But Schiffer said the product would have to "speak to her" and be close to her personality.
"Consumers are not stupid. They do understand if you don't believe in your product," she said.
Schiffer said she was looking for business partners, who did not necessarily have to be German, and she aimed to give the brand a global reach instantly.
"I would love to do cashmere, it is something I wear all the time myself...I would love to do something that is a bit more price friendly and...a lot of cashmere is very classic, I would like to create something that is a bit more fashion," she said.
But while pursuing her new business interests, Schiffer, who has recently been featuring in Yves Saint Laurent,
Salvatore Ferragamo
and
Alberta Ferretti
ad campaigns, said she hoped to continue being a model for "as long as possible."
Schiffer began her modeling career in the late 1980s and is remembered for her
Chanel
and
Guess
jeans campaigns among many others. The model said that despite her very public persona, she was a shy person who was cautious and valued loyalty.
"It takes me some time to warm up, but once you are friends with me I am friends for a long time," she said.
"I am very loyal."
Schiffer, who has been living in England for the past nine years, said she often sought to get away from the limelight.
"I do enjoy having a quiet life and on the weekends, we go away to the countryside and do normal things which make me feel good."
(Editing by Paul Casciato)
© Thomson Reuters 2023 All rights reserved.