Emanuel Ungaro presents the 'Hand Made' shirt by Franck Bouclet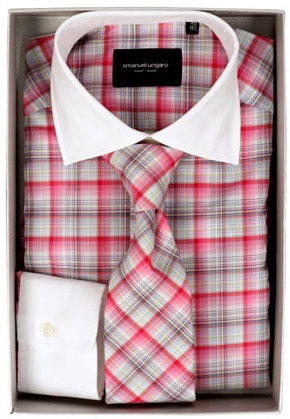 The hand made shirt by Franck Boclet for Emanuel Ungaro
Franck Boclet
is inspired by "the ancient tradions of master tailors". The artistic director for men's collections at the fashion house Ungaro since 2007 has leapt back into the past with an exceptional shirt that is custom-made.
Designed by Italian designers, the shirt sports high quality materials, "from double twisted cotton to Sea Island cotton, without forgetting 100% silk and Egyptian combed cotton/linen", explained the fashion house.
Buttonholes, buttons, collar and cuffs, English fashioned sleeves… Franck Boclet hasn't skimped on the details, everything is done by hand. As for the price, one of these shirts is available from €350.
The icing on the cake, it's even possible to order the shirt of your dreams at the label's boutiques in Paris and New York.
A range of a hundred and ten materials combined with "multiple personalisations" such as "embroidered initials and ties and pocket squares in the same material" amongst others will allow gentlemen to be as demanding as they can be and, at the same times, as stylish as possible.
By Jonathan Fulwell (Source: Julie Mangaud)
Copyright © 2023 FashionNetwork.com All rights reserved.