Escada's bond swap to feature big haircut
FRANKFURT, May 19 (Reuters) - Escada (ESCG.DE) plans to ask bondholders to accept a new bond worth notably less than half the face value of its current debt in an exchange to help save the company, a source close to the matter told Reuters.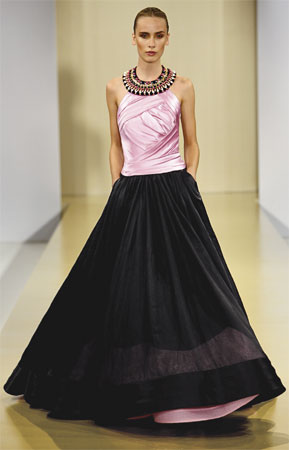 Spring-Summer 2009 at Escada
Escada's current bond trades at less than a third of face value, according to Reuters data.
A spokesman for Escada declined to comment.
The German fashion house, which has been struggling with slowing sales, has warned it could face insolvency as early as July if its plan to raise capital, replace a 200 million euro ($272.6 million) bond that matures in 2012, and negotiate credit lines fails.
A successful bond exchange is key to the rescue plan as German billionaire brothers Wolfgang and Michael Herz -- who together hold 24.9 percent in Escada -- are willing to inject further capital only if all conditions are met.
Exchanging bonds for debt of a lower value is a trend that emerged in the United States last year. Investors expect the trend to ramp up on the European side of the Atlantic this year.
Bondholders may benefit from an exchange if they believe a business to be viable, and if the bonds recover. The alternative may be a company going into administration.
In April, for example, Austrian skimaker Head (HD3.VI) said it was offering bondholders a deal to swap unsecured into secured bonds with a higher coupon if they accept a "haircut" of around two-thirds of the bond's face value.
In Escada's case, more than three-quarters of bondholders would have to agree to the exchange, the source said.
The new bond offer will be sent at the end of the month or early June to creditors who will then have two to three weeks to either accept or decline, the source added. (Reporting by Eva Kuehnen)
© Thomson Reuters 2022 All rights reserved.