French Connection scraps dividend as slumps to loss
By James Davey
LONDON (Reuters) - British fashion group French Connection (FCCN.L) swung to a full-year loss, scrapped its final dividend and said it expected 2009 to be just as tough, sending its shares 6 percent lower.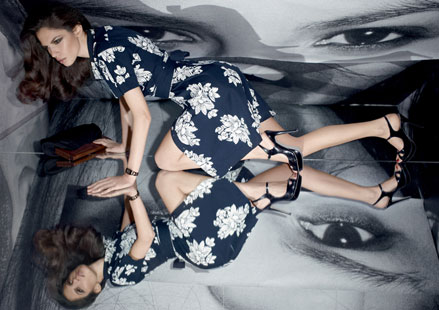 French Connection Spring - Summer 2009
"We are preparing for another difficult year," said Stephen Marks, the group's founder and executive chairman who owns 42 percent of its equity.
Shares in French Connection have lost 30 percent of their value over the last 12 months, underperforming the FTSE All Share General Retailers Index by 16 percent.
The stock was down 3.25 pence at 54 pence at 8:46 a.m., valuing the business at 51 million pounds.
The retailer and wholesaler, which trades in the United States and Asia as well as the UK, said on Wednesday it made a loss before tax and impairment of goodwill of 5.5 million pounds for the year to January 31.
This compares with analyst forecasts of a loss of 1.1 to 5 million pounds, according to Reuters Estimates, and a profit of 3.1 million pounds in the previous year.
Turnover increased 5 percent to 248 million pounds but gross margin declined 140 basis points and costs increased 11 percent.
The group, which made a profit of 38 million pounds just five years ago, has struggled in recent years as the appeal of its FCUK brand has waned, its core markets have deteriorated and costs have risen.
French Connection also booked am 11.9 million pounds exceptional charge to reflect the impairment of goodwill carried in its U.S. and UK businesses.
Many UK retailers have been struggling as indebted consumers rein in spending amid soaring unemployment, sliding house prices and fears of a long and deep recession.
"The results for last year are disappointing and, to a large extent, are a reflection of the impact on fashion markets of the downturn in the major world economies and in particular the U.S. market," said Marks.
French Connection said it was prudent to pay no further dividend for the year. It paid an interim dividend of 1.7 pence and paid a total of 5.0 pence in the previous year.
But it ended the year with net funds of 37.1 million pounds.
Analysts at Panmure Gordon cut their current year forecasts from a loss of 5 million pounds to a loss of 8.5 million.
"It is difficult to see how the group can see an improvement in the current year, given that the adverse currency factors that impacted the gross margin will still be in play and it is unlikely there will be a sharp recovery in sales," they said."
(Editing by Rhys Jones and David Cowell)
© Thomson Reuters 2023 All rights reserved.