LVMH to take stake in ethical fashion brand Edun
By Astrid Wendlandt
PARIS - LVMH is to take a minority stake in Edun, the ecological and ethical fashion start-up founded by Irish singer and campaigner Bono and his wife, the world's biggest luxury group said on Thursday 14 May.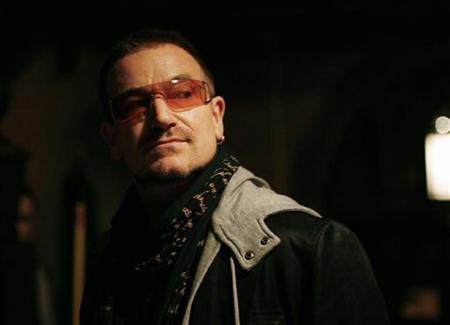 Launched in 2005, Edun aims to promote sustainable development and fair trading by selling T-shirts and dresses in organic cotton made in countries such as India, Peru, Uganda, Kenya and Lesotho.
Financial details of the deal were not disclosed.
"We are proud to contribute to the operational development of Edun and to the improvement of living standards of local communities," LVMH Chief Executive Bernard Arnault said in a statement.
The French group's other fashion brands include Celine, Kenzo, Donna Karan and Louis Vuitton.
Bono, whose real name is Paul Hewson, is the lead singer of rock band U2 and an active humanitarian campaigner, nominated for the Nobel Peace Prize.
"With LVMH, we can step up (Edun's) development, giving greater stability to our suppliers and the local communities they support," Bono said in LVMH's statement.
Edun will maintain its headquarters in Dublin and a subsidiary in New York. Mark Weber, head of Donna Karan International, will supervise LVMH's investment for the French luxury group.
WINE AND SPIRIT IMPROVEMENT
As he announced the Edun deal, Arnault said trading in April was broadly in line with the level seen during the first quarter, with a slight improvement in wines and spirits.
Asked about the group's operations overall, Arnault told Reuters: "It is in line with the first quarter."
Jean-Jacques Guiony, LVMH Finance Director, later told Reuters there had been a slight improvement in wines and spirits particularly in Cognac sales, which made up about half of the unit's sales.
But conclusions could not be drawn based on one month's trading, he added.
Moet Hennessy, LVMH's wines and spirit unit, saw revenue drop 22 percent in the first quarter on a like-for-like basis.
Hennessy volumes alone were down 21 percent.
Arnault added that Diageo, which still owns 34 percent of Moet Hennessy, was not planning to sell its stake.
"To my knowledge, our partner is not looking to sell its stake, so the question is not on the agenda," he said.
Last month, LVMH denied it was in talks to sell control of Moet Hennessy to Diageo, attempting to quash market rumors the two groups were preparing a deal. Industry observers at the time said they believed Diageo appeared more keen on fully owning Moet Hennessy than LVMH was on selling.
Citing analysts who expect to see green shoots of recovery next year, Arnault forecast market conditions would improve faster in the United States than in Europe.
"The economy will have to pick up again," Arnault said.
LVMH shares, which have gained 18 percent since the beginning of the year, closed barely changed at 57.38 euros.
(Editing by Jon Loades-Carter)
© Thomson Reuters 2023 All rights reserved.