Marni arrives in Las Vegas
The Italian label Marni has continued its expansion with the opening of another American boutique. Following international openings in New York, Madrid and Barcelona it is now the turn of Las Vegas, with the brand opening a store in the celebrated Crystals shopping centre.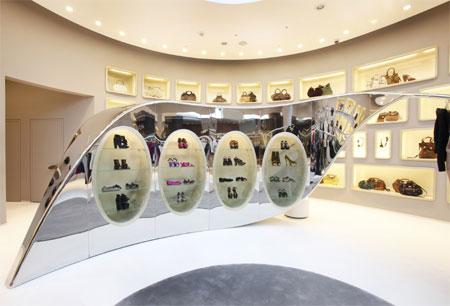 Interior of the Marni boutique in Las Vegas
Once again, the architectural firm Sybarite was contracted for the 220m squared space. The company, which has worked with the label since the first store openings in 2000, has stayed faithful to the spirit of existent Marni boutiques: using an extra large steel "lasso" to the centre of the store, suspending mannequins and installing retro-chic presentation spaces for accessories, glasses, bags, shoes and jewellery.
As for the clothes in the store, the collection's cuts shimmer, testimony to the handiwork of Consuelo Castiglioni, designer for the brand.

By Jonathan Fulwell (Source: Emilie-Alice Fabrizi)
Copyright © 2023 FashionNetwork.com All rights reserved.