New York & Co to cut jobs, close stores
Jan 8 (Reuters) - Women's-apparel chain New York & Co Inc (NWY.N) said it will cut about 12 percent of its management jobs, close about 40 to 50 stores underperforming stores and reduce spending as part of its restructuring efforts.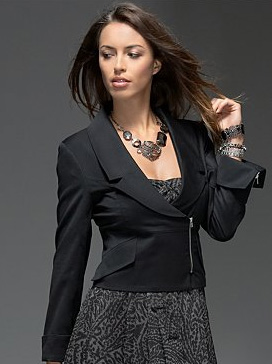 New York & Co NY collection
The company, which also eliminated about 10 percent of its corporate office staff, will incur related pretax restructuring charges of about $25 million in the fourth quarter of fiscal 2008.
The restructuring, which would result in a cut of 260 management level positions and 50 corporate office jobs, is expected to generate about $175 million in pretax savings over the next five years, of which about $30 million will be realized in fiscal 2009.
New York & Co, which caters to working women with moderate incomes, expects to close 10 to 15 of its stores in fiscal 2009 and will shutter the rest over fiscal years 2010 to 2013.
The retailer, which sells apparel, jewelry and accessories, plans to limit new store openings over the next year. As a result, it expects capital expenditure in the period of about $15 million, which is down by $35 million from its expected fiscal 2008 capital expenditure.
Additionally, the company expects fourth-quarter comparable-store sales to fall by about 10 percent and fiscal 2008 comparable-store sales to be fall in the high single-digit range.
Based on quarter-to-date results, New York & Co expects its fourth-quarter loss to be at the low end of its prior outlook. The company had previously forecast a loss of 5 cents a share to 20 cents a share.
Shares of the New York City-based company were down 2 cents at $2.21 Thursday morning on the New York Stock Exchange. (Reporting by Dhanya Skariachan in Bangalore; Editing by Amitha Rajan)
© Thomson Reuters 2023 All rights reserved.