PPR third quarter sales down 7.6 pct, to pursue cost cuts
PARIS, Oct 20 (Reuters) - French retailer PPR (PRTP.PA), which owns the luxury brand Gucci, said on Tuesday 20 October it would continue to cut costs and boost competitiveness after posting lower third-quarter sales, slightly below forecasts.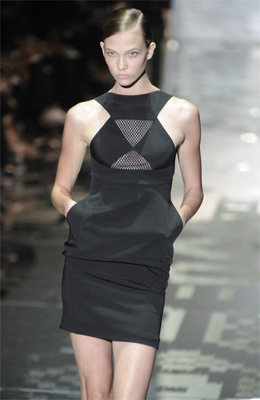 Gucci - spring 2010 / Photo: Pixel Formula
Third-quarter revenue reached 4.56 billion euros ($6.8 billion), a drop of 7.6 percent year-on-year. Analysts had been expecting sales of 4.64 billion euros.
PPR Chief Executive Francois-Henri Pinault blamed the "lacklustre" macroeconomic environment as well as a high year-on-year comparison base across most divisions for the decline.
PPR would pursue previously-announced plans to reinforce its competitive edge and market positioning, the statement said.
Gucci brand like-for-like sales fell 7 percent in the third quarter, excluding timepieces, with wholesale orders suffering more than directly-operated stores.
The Gucci Group, which also includes
Bottega Veneta
and Yves Saint-Laurent, reported a 10 percent drop in like-for-like sales. Sportswear brand
Puma
had like-for-like sales down 9.8 percent.
Nearly all of PPR's non-luxury divisions, including home-improvement chain Conforama and mail-order company
Redcats
, reported like-for-like sales declines of nearly 10 percent.
Retail chain
Fnac
, which sells books, DVDs and records, was the one exception with a like-for-like increase of 0.5 percent.
PPR, which is controlled by the Pinault family, last year began a restructuring and cost-cutting plan to defend its operating margin in the face of falling sales.
It has not given any profit guidance for the year.
Shares of PPR closed up 0.1 percent at 85.17 euros before the statement. (Reporting by Lionel Laurent)
© Thomson Reuters 2023 All rights reserved.