Richemont can cope with slowdown-Chairman
GENEVA, Switzerland, Oct 9 (Reuters) - Switzerland's Richemont is well placed to cope with difficult trading conditions thanks to its presence in emerging markets, such as China, the luxury goods group's chairman said on Thursday, Octobre 9th.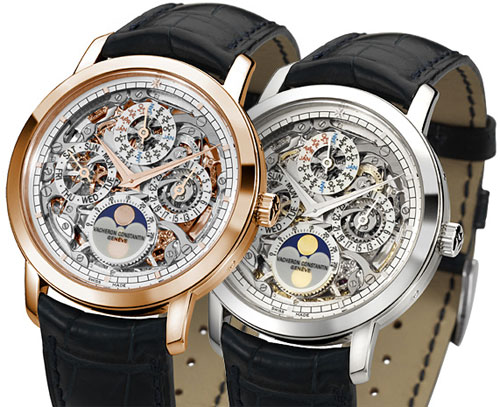 Vacheron Constantin watch, a label belonging to Richemont
"There won't be a company in any industry that is dependent on disposable income that won't be affected by a deep and long recession," Johann Rupert told reporters after an extraordinary general meeting in Geneva.
"Richemont's geographical positioning and strong balance sheet mean that it is in a better position than competitors and this might even be an opportunity to gain market share," Rupert said.
The seller of Cartier watches was hit by a slowdown in the aftermath of the Sept. 11 2001 attacks and the 2003 SARS scare, but Rupert, whose family controls Richemont, said the group was now a "very different company than it was five or eight years ago".
"We expanded into areas such as China. The company is a lot better positioned. We still have sufficient liquidity of around 1.1 billion euros ($1.51 billion) at Richemont for working capital purposes and for acquisitions should they come up in the future," he said.
Richemont does not have any significant debt on its balance sheet, a spokesman for the group added.
"Maybe we will be saved by the fact that we can only produce 60 percent of demand. Maybe it is lucky that we didn't expand too much in good times and were conservative," Rupert said.
Shareholders backed the spin-off of its stake in British American Tobacco at the EGM, making Richemont Europe's second-biggest pure luxury goods specialist.
By 1055 GMT, shares in the group were 1.7 percent higher at 42.88 Swiss francs, outpacing the DJ Stoxx European Personal and Household Goods sector index which was up 0.6 percent.
Richemont's strong position in the top-end range, with brands such as Piaget, Constantin Vacheron, Lange & Soehne and Jaeger-LeCoultre, means that the Geneva-based company is well placed to cope with the slowdown, analysts have said.
MARKET TURMOIL
Shares in Richemont have lost some 46 percent of their value so far this year, while shares in French rival LVMH , have tumbled 37 percent, as a result of the worsening economic environment and consumer sentiment.
"It is human nature, what happened. You cannot blame the investment banks or the Americans. We had an incredible period of prosperity since the fall of the Berlin Wall and people got used to growth," Rupert said.
"The sad thing was it was predictable. If you build up leverage over 15 years and expect to deleverage over three to six months, it ain't going to happen," he said.
Rupert said he was concerned about the current situation, pointing to the recent coordinated interest rate cuts and the increase of liquidity by governments, but was looking to economies like China and India to bolster Richemont.
"I want to be in economies that are growing. I can't see that India and China with their productivity will not grow," he said.
"If you look at India and China combined, in eight to ten years, they will have bigger middle class than Europe," he said. (Editing by David Cowell and Simon Jessop)
© Thomson Reuters 2022 All rights reserved.