Sotheby's sees gold Russian vases fetching $2.7 million
MOSCOW (Reuters Life!) - A pair of gold-plated porcelain vases once owned by a relative of murdered Russian Czar Nicholas II will be sold in London by Sotheby's this summer and are expected to fetch up to $2.67 million.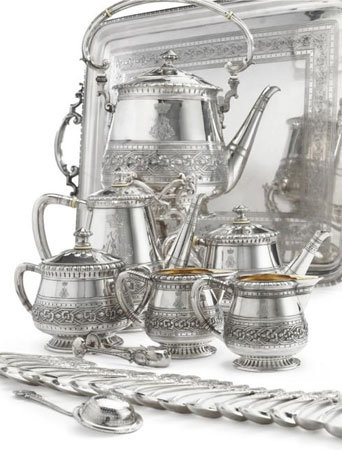 An 1879 silver tea service which will be auctioned next week in New York
Decorated with two types of gold and copies of Old Master paintings, the 1848 vases are the largest the London-based auction house has ever sold.
They were owned by Grand Duke Vladimir Kirillovich, whose father was a first cousin of Russia's last tsar Nicholas II, who was killed by the Bolsheviks as they swept to power in 1918.
"With a provenance like this, I expect them to return to Russia," Sotheby's Russian Art department head Jo Vickery told Reuters.
Artworks from the motherland attract international attention and hefty price tags, and Russians are some of the biggest buyers of their own art in what experts say is an attempt to re-connect to a pre-Soviet heritage.
Sotheby's, which set up its Moscow branch two years ago, has seen its sales of Russian art skyrocket by almost 3,000 percent between 2000, when it sold works worth $6 million, to $180.8 million in 2007.
An 1879 silver tea service given as a wedding gift to the granddaughter of 19th century Czar Nikolai I will also be sold by Sotheby's in New York next week, estimated to realize $320,000-$380,000.
The vases will be offered during Sotheby's Russian week in London on June 10 with an estimated sale price of $1.78-$2.67 million. The tea service will be sold in New York on April 22 at its Russian Art sale.
(Reporting by Amie Ferris-Rotman, editing by Paul Casciato)
© Thomson Reuters 2023 All rights reserved.