VF Corp disappoints, lowers '09 view, shares fall
SAN FRANCISCO, April 28 (Reuters) - VF Corp (VFC.N) posted a steeper-than-expected drop in quarterly profit and lowered its full-year outlook on Tuesday 28 April on weak international demand for jeans, and the apparel maker's shares fell 9 percent.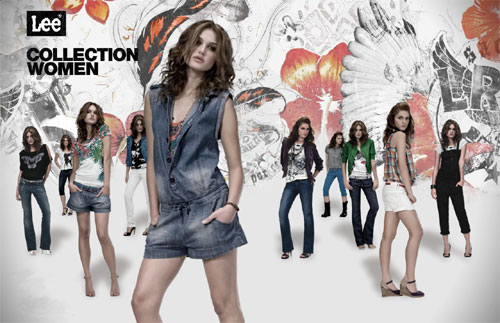 Lee Women's Wear Spring 2009
The negative effect of a strong U.S. dollar and pension costs contributed to the 7 percent decline in sales and 32 percent drop in profit, VF said.
"There is no question that global volatility and challenging economic conditions affected our business in the first quarter," Chief Executive Eric Wiseman said in a statement.
He said that VF's four largest brands - Wrangler, Lee, Vans and The North Face - continued to perform well.
VF, home to dozens of brands, also said it would stop providing specific quarterly guidance due to the increased fluctuations in global market conditions.
First-quarter net income fell to $100.9 million, or 91 cents per share, from $149.0 million, or $1.33 per share.
Revenue fell 7 percent to $1.73 billion, hurt by the sluggish global economy and the strength of the U.S. dollar. On a constant currency basis, revenue fell 2 percent. Earnings were $1.01 per share on a constant currency basis.
Analysts, on average, had expected VF to earn 94 cents per share on revenue of $1.74 billion, according to Reuters Estimates.
The company had forecast earnings of 90 cents to 95 cents.
VF said the weak economies in Eastern Europe and Scandinavia were hurting its international jeans business, where first-quarter sales fell 8 percent on a constant currency basis.
U.S. sales of jeans rose 4 percent, with a 3 percent rise in the Wrangler brand and a 7 percent jump in Lee jeans. However, weakness at upscale department and specialty stores cut into its 7 For All Mankind premium denim business.
"The luxury consumer has scaled back," Chief Financial Officer Bob Shearer said during a conference call.
Furthermore, higher unemployment levels in the manufacturing and petrochemical sectors were behind lower-than-expected sales of uniforms, one of VF's higher-margin businesses.
VF now expects to earn $4.70 to $5.00 per share this year, significantly below its earlier view of $5.42 per share.
It forecast 2009 revenue would drop 5 to 7 percent, with more than half of the decline due to the effect of a stronger U.S. dollar.
The company, which has pared back its store opening plan, said it still believes that the second quarter will mark "the low part of the year in our revenue and earnings comparisons," while it would find easier comparisons against year-ago results in the second half of 2009.
Shares fell 9 percent to $61 after rising 1.8 percent to $67.28 on the New York Stock Exchange ahead of the report. (Reporting by Alexandria Sage; editing by Carol Bishopric)
© Thomson Reuters 2023 All rights reserved.